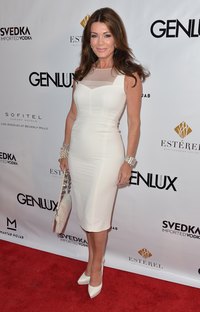 A celebration that often signals the beginning or the end of the spring and summer season, a white party is just as much about fashion as it is about the festivities. The general rule of thumb when attending a white party is to wear something, well, white. In your fashion quest, explore stylish white options that run the gamut from dressy to casual.
White Dress
A white dress is an all-purpose garment for a white party. Choose a style -- maxi, midi or mini -- then dress it up or down. Determine the fit, design and additional details of your white dress based on the dress code for the white party -- formal or informal -- and your personal preference. A party is a festive occasion that may feature dancing and socializing, so choose a dress that is comfortable.
White Suit
A white suit -- for men and women alike -- is equally sophisticated and chic. Consider the dress code before you buy one, because you don't want to show up in something too dressy when the event is casual -- or vice versa. Also, determine where the white party will take place. For example, an outdoor event may call for a white suit in a cooler fabric, like linen. Choose a style of suit that reflects your personal style. Complete your look with casual or dressy shoes, jewelry and other accessories, such as hats.
White Shorts/Romper/Denim
Because many white parties are held during the warmer months of the year, choose attire that will keep you cool throughout a night of partying. White shorts, a white romper or white denim are weather-appropriate and stylish enough for a white party with a more casual dress code. Pair white shorts with a white blouse with billowy sleeves for a casual and cool look. Slip on a romper -- a jumpsuit-like outfit that features short pants -- with dressy sandals. Wear white denim shorts with a white blazer in a cropped or waist-length design, and throw a tank or cami underneath. White denim capris, white skinny jeans or white wide-leg denim trousers are other casual party options.
White Jumpsuit
When you can't decide whether to wear a white suit or a romper, a jumpsuit may be your best option. It combines them both in one chic outfit that's fabulous for a white party celebration. Style it with a blazer or jacket to create the illusion that you're wearing a white suit. Choose the pant length -- wide, skinny, relaxed or boot-cut -- that makes you feel the most comfortable and cool.