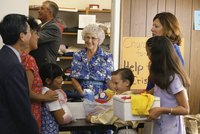 Nonprofit organizations do work that support the causes of groups such as religious, charitable, scientific and educational organizations. For example, they might promote youth sporting events or raise funds to prevent acts of violence toward humans and animals. According to Section 501 of the Internal Revenue Code, these organizations need not pay federal taxes as profit-making institutions do -- but they do need to pay other taxes that are applicable to them.
Applying for Exemption
To qualify for exemption from federal income tax and be eligible to receive donations, organizations must apply to the Internal Revenue Service for recognition under Section 501 (c) (3). The organizations must have at least one exempt purpose, which Section 501 (c) (3) lists as "charitable, educational, religious, scientific, literary, fostering national or international sports competition, preventing cruelty to children or animals and testing for public safety." Donations to tax-exempt organizations might be tax deductible. To claim the contribution, the donor must have a bank record of the donation or get written confirmation from the organization. Charitable organizations with this status typically don't pay regular state taxes on income, sales and property and certain other employment taxes. These organizations also might qualify for reduced postage costs from the U.S. Postal Service.
Unrelated Business Tax
Nonprofit organizations pay tax on unrelated business income, which for these organizations is income from business not related to their exempt purposes. Declare earnings of $1,000 or more by filing Form 990-T. Also, if the organization estimates that it might incur a tax liability of $500 or more during the financial year, it will need to make estimated quarterly tax payments. Use Form 990-W for assistance in calculating the applicable tax.
Purchase and Sales Tax
In some states, organizations need to show their 501(c) (3) form and claim exemption, but other states might have other requirements. For example, according to the Nebraska law, nonprofit organizations must give sellers their Exempt Sale Certificate as proof of tax exemption. If nonprofit organizations sell property or services, however, they must obtain a Nebraska sales tax permit by filling and submitting Form 20 to the Nebraska Department of Revenue. In Washington State, non-profit organizations must pay purchase taxes on items such as consumer goods, furniture, appliances and any services they hire.
Property Tax
Typically, the property owned by nonprofit organizations is not taxable, as long as they use the property for exempt purposes. However, excess, vacant or unused property incurs regular property tax. Also, if tax-exempt organizations lease their property to non-exempt users, they must deduct the value of the leased property from the value of the exempt property, and the remaining amount is again taxable. Different states have their own rules and governing bodies for property. For example, in California, all property is taxable, but organizations looking for property tax exemption must contact the county assessor or the Board of Equalization. In New York, nonprofit organizations can qualify for tax reduction by submitting a Not-For-Profit Organization's Tax Exemption Application. They also must submit a copy of the Determination or ruling letter that certifies their exempt status.
Employment Taxes
Like for-profit organizations, a nonprofit organization must obtain a federal Employment Identification Number before hiring employees. Also, if it has employees, it must comply with federal, state and local taxation laws. Typical employment taxes include federal income tax, Social Security and Medicare taxes, and unemployment taxes. If the organization neglects to collect and pay withheld income and employment taxes, or overlooks paying collected excise taxes, the person in charge of paying withheld taxes incurs the Trust Fund Recovery Penalty, which can be equal to the tax due. These organizations also need to pay the necessary employment taxes and certain excise taxes before they file their returns.