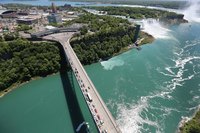 Many options to enter Canada from New York exist, including road travel through the splendid Niagara Falls, buses, rail travel and convenient flights to major Canadian hubs. Entering Canada for a one-night stay typically requires nothing other than a passport for United States citizens. Canada has visa requirements, however, for foreign nationals of certain other countries, as well as required documentation for those working in Canada.
Passport
Anyone wishing to enter Canada, including U.S. citizens, must present a valid, non-expired passport issued by his home country. Visitors from the United States who travel by car from New York can use a passport card rather than a passport book. The card is cheaper than a passport to obtain and easier to carry; however, you cannot use the card for air travel to Canada. Canada refuses entry to visitors carrying certain kinds of passports, including passports claiming to have been issued by Somalia; temporary passports issued by the Republic of South Africa; provisional passports issued by Venezuela; and non-machine readable passports issued by the Czech Republic.
Medical Exams
Generally, for a one-night stay in Canada, you do not need a medical exam. However, if you are there to work in certain fields or occupations, you need to have an exam administered by an approved physician in Canada. These occupations usually are healthcare related, including in-home care workers, medical students, nursing-home workers and clinical laboratory workers. You need to bring certain documents to your health screening. These include a valid photo ID such as your passport or driver's license, medical reports regarding previous or existing medical conditions, and medical-report form IMM 1070 if you opt out of an upfront medical exam.
Visas
If you are a citizen of a certain country, you need a visa to enter Canada, even for a night. Citizens of specific countries must provide fingerprints and photographs when applying for tourist visas. Applicants may be asked to provide a Letter of Invitation from someone living in Canada who knows the applicant well. There are exemptions for the visa requirement for those under 14 years of age or older than 80; for diplomats, consular officers and representatives or officials of a country, of the United Nations and of any intergovernmental organization of which Canada is a member, traveling in Canada on official business; and for those already in Canada and eligible to apply for a visitor visa, study permit or work permit.
Proof of Departure
When entering Canada, Canadian immigration officers must determine you intend to leave Canada at the end of your visit. Having travel documentation with your date of departure is an easy way to demonstrate your intent to leave. Immigration officials must be satisfied of your ties to your home country. Proof of a permanent address, including a driver's license, and proof of family ties such as photographs are useful ways to demonstrate your connection to your home country and intent to leave Canada.
Transit Without Visa, and China Transit Program
Canada has developed a program for citizens of certain foreign countries to travel to and from the United States through Canada without first obtaining a visa. Citizens of Indonesia, Thailand, Taiwan and the Philippines can enter the country en route to the U.S. through the Transit Without Visa (TWOV) program. Citizens of China whose last point of embarkation on their way to Canada was Beijing, Guangzhou, Shanghai, Hong Kong, Manila or Taipei can enter through the China Transit Program (CTP), even when returning home through Canada from New York. For both programs, a visitor must show a valid U.S. visa, travel on an airline approved for the programs, and travel through a participating airport.