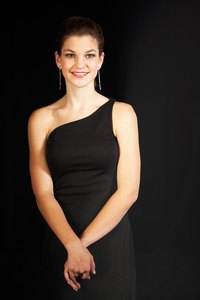 Whether it's the winter-time holiday season or you're getting ready to watch those sunny summer wedding invites roll in, having the right mix of party attire options is key to looking fab at your next fete. Before you start stressing over your dressing options, take some time to better understand what types of clothing match up to the array of events and activities that are on your social schedule. From backyard birthday bashes for your neighbor's little one to a formal charity event, party attire options range from casual to complex.
Casual Parties
Not every party is cause to break out the ball gown or black bow tie and tux. An invite to a casual celebration -- such as a child's party, low-key family reunion or a July Fourth picnic -- means choosing attire that is comfortably relaxed. Additionally, an outdoor summer or destination beach wedding may also call for a casually cool outfit that turns down the dress and picks up on a less stuffy feel. The fashionistas at "Elle" magazine suggest opting for light cotton print pieces to keep you casual, yet chic, during a hot summer party. Pick an above-the-knee cotton sundress with a delicate floral print for a day at your BFF's beach wedding. If the event calls for a completely casual feel -- or you engaging in physical activities such as a potato sack race or chasing after your gaggle of kids -- try an embroidered cotton top and a pair of Bermuda shorts.
Semi-Formal Attire
If the words "semi formal" bring dread to your head -- wondering where the semi ends and the formal begins -- you aren't alone. While semi-formal seems more open to interpretation than an invitation request that reads "formal" or "black tie," this party style option typically means a cocktail dress, dressy pants suit or a knee-length dress. You can leave the ball gowns, sequined evening dresses and rhinestone frocks at home when it comes to prepping for a semi-formal party. Instead, opt for an outfit that is dressier than what you might wear to work, but doesn't feel like a black-tie ensemble. Try wearing a satin little black dress to your next semi-formal event, and don't skimp on your footwear pairing with your in-between outfit. Go for a dressier heel, avoiding casual sandals.
Formal Dress
Going to an evening wedding, charity ball or other similar event often means wearing "black tie" or formal attire. Formal attire is the dressiest style that you can choose, and typically involves women wearing mid-length to long evening or ball gowns. You can go full-out and opt for a dressier look, sporting a floor-length chiffon gown or a sequined dazzler. Unless you choose a woman's style version of a men's tuxedo, pants are typically a no-no when it comes to black-tie attire. Accessorize your formal party dress with a silky satin evening clutch, a pair of heels and jewelry that accents your ensemble.
Men's Dress
Women don't have the market cornered on party attire options. Although choosing what to wear may seem trickier for a woman -- who have an abundance of options ranging from skirts to dresses to suits -- men still need to adhere to proper party style. For an informal or casual celebration men can go with a pressed polo shirt, knee-length dress shorts -- depending on the weather and the event -- or a pair of khakis. Semi-formal style for men means wearing a business-style suit, button-down shirt and a tie. Men should reserve tuxedos and dressy bow ties for strictly formal events. While sandals are acceptable footwear for casual parties, semi-formal and formal events require leather lace-up or slip-on dress shoes.