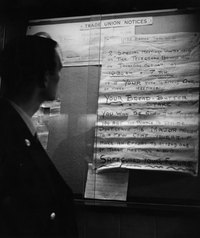 The study of industrial relations concerns labor unions, labor-management relations and the practice of collective bargaining. The field of human resources largely revolves around the relationship between management and non-union employees. Despite the inherent differences in each arena, industrial relations experts can learn from some of the best practices in the human resources field to keep the relationship between union labor and management friendly and professional.
Collective Bargaining
The core mission of human resource managers is to maintain the relationships between employees and management. In an environment with a unionized workforce, the role of industrial relations managers becomes more complicated with the insertion of union representatives and government labor relations agencies. However, industrial relations managers can learn from their HR counterparts about dealing with labor collective bargaining sessions by preparing their negotiation strategies four to six months in advance of the labor contract's expiration date.
Career Training
Another best practice found in HR departments is that they enable employees to improve their career prospects within the organization. HR managers bring in job training programs and continuing education opportunities that improve an employee's skills and increase his value to the company. IR managers can work with union members and representatives to present similar opportunities to unionized workers. These programs help workers develop into better employees and contribute more to the company while also allowing them to become better resources for fellow union members.
Workplace Regulations
Both HR and IR managers must deal with governmental regulations on work weeks, minimum wage and worker safety issues. Many companies employ compliance supervisors in their HR departments to develop practices to comply with these regulations. Industrial relations managers also must work with governmental labor practice agencies, which ensure that workers are not exploited and that both sides exercise good faith in collective bargaining negotiations. IR managers can employ compliance officers to study the regulations and keep the company in line.
Open Communication
HR managers always seek to keep open the lines of communication between employees and management. When these lines are disrupted, miscommunication or lack of a clear message can lead to distrust, resentment and poor performance on both sides. IR managers also must keep open clear lines of communication between management, employees and union representatives. When each group understands the goals of the others and the methods each group uses to achieve those goals, the collective bargaining process becomes much easier.