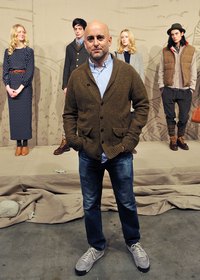 Cardigans aren't just for women and old men. Any man can look dapper in a cardigan if he knows the correct way to style it. If you're looking to rock a cardigan this season, you're in luck. There are multiple ways to wear this versatile sweater that are fashionable, masculine and sure to amp up your style.
Dressed Up and Down
Combine both casual and dressy by pairing a cardigan with a button-down shirt and tie. Throw on a pair of dark wash jeans and add a fun shoe, like a canvas sneaker. If you're wearing a patterned cardigan, keep your pants and shirt simple. For a more dressed-up look, swap out your jeans for corduroys and replace sneakers with leather loafers.
The Layered Look
Instead of wearing the traditional button-down shirt under your blazer, wear a cardigan. To pull off this layered look, your cardigan should be relatively fitted and made of thin material -- otherwise this look can come across as overly bulky. It is perfectly fine to add an additional layer and wear a shirt under your cardigan. Again, the key is to wear lighter pieces that won't add bulk, so keep this in mind when layering.
Adding Prints and Texture
A slim-fit cardigan looks fashionable over a plaid shirt. Plaid, however, isn't the only print that works -- any printed oxford shirt that speaks to your sartorial sense will do. Pair this look with jeans or khakis. Sport your cardigan unbuttoned to show off your shirt underneath or button it for a layered effect, letting just the collar of your shirt show. Make the look even more relaxed by swapping out your printed button-down shirt for a denim one and throw on a brown cardigan. Pair this textured look with khakis and brown boots. If you're still chilly, add an additional layer with a tan coat.
With or Without a T-Shirt
For a cool and casual look, pair your cardigan with a T-shirt. A simple tee will work, though graphic tees also look stylish. If you choose a graphic T-shirt, keep your cardigan unbuttoned to show it off. You can also wear your cardigan as your main statement piece. While an unbuttoned or slightly buttoned cardigan looks good over your favorite tee, it can also work well as its own piece. You may still want to wear some type of shirt underneath for comfort, but instead of leaving some buttons undone, button your cardigan all the way up. If you're wearing a V-neck style that is too low cut to wear alone, add your favorite scarf to complete the look.