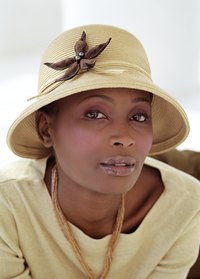 During the summer months when the sun is strong and stays out longer, it is more important than ever to cover your bald head. The damaging effects of the sun can mean everything from sunburn to skin cancer, both of which can be largely prevented by shielding your scalp. If you plan on being in the sun longer than 10 minutes, cover your bald head with a hat that can actually double as an extension of your personal style.
Hats
Choose a hat that not only fits your head properly and shields your face from the sun, but reflects your personal style. Men look good in classic styles that feature a trendy twist. Try a panama straw hat, baker boy hat, raffia or cotton-twill fedora or a long-billed baseball cap, all of which look good with the lightweight fabrics and colorful prints worn during the summer. Women look stylish in a striped tweed or crocheted floppy hat, a cloche hat or one with a wavy-rim. Both men and women should look for wide-brimmed hats to also shield the sun from foreheads, ears and necks.
Turbans and Scarves
Men and women can cover a bald head with a fashionable turban. When wearing a sundress, or a cool pair of shorts and a T-shirt, choose a turban in a lightweight fabric featuring shapes or interesting details. A night on the town, however, calls for a beautiful metallic or beaded turban. Another sophisticated option for women are head scarves, which are as versatile as the prints they come in. Make a dramatic bow at at the side of your neck, tie a knot in front or create a large bun-shape at the side.
While Swimming
Men and women should wear a swim cap when swimming, because the sun's reflection off the water makes UV rays even more damaging to your bald head. A popular men's option is the Lycra or silicone swim cap, while women make a splash in a retro swim cap adorned with flowers, frilly gathers or a textured pattern.
Wigs
Today's wigs come in human and synthetic hair. It is important to note there are advantages to both styles, so figuring out what suits you best is key to getting the most out of your wig. Visit a wig boutique or go online to discover the thousands of options available. It is important to fit the wig to your face shape, while deciding what length, color and cut best compliments your features. In addition, a wig cap is used to help secure the wig to your head. Between the wig and the wig cap, you will have all the necessary protection against the sun.