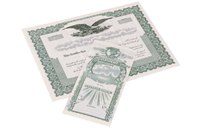 Bonds can be an attractive investment if you're looking to invest a set amount of money for a set amount of time and get a predictable return. However, some bonds are less predictable than others. When interest rates drop, bond holders frequently look into refinancing them to save money. While all bond refinances can be referred to as refunding, some come in the form of advanced refunding, which can actually be beneficial to you even though you don't get your money back. Others, though, allow the bond issuer to buy you out.
Callable Bonds
Some bonds are written in a way that they can be called back by the issuer. If the bond is callable, it will be disclosed as a part of the supporting documentation for the investment so that you can figure out when and how it can be called. Typically, the bond gets called for at least its face value, however, if you paid more than face value for the bond, you could lose money. Callable bonds are usually better for the issuer than for investors, since it means that once the bond hits the call date, the issuer can pay the bond off if it's better for it.
The Early Repayment Problem
Bonds are a lot like your home mortgage. When rates go up, they're a great deal for the borrower, since the interest rate is fixed. When rates go down, though, the issuer can benefit from repaying them by refinancing them at a lower rate. This is problematic for you since you get your money back when you have to invest it at a lower interest rate, leaving you in the situation of losing returns. This is why callable bonds are usually sold at a lower price than non-callable bonds. Then again, the call price is sometimes set higher than the face vale, giving you some additional protection if the bond gets called.
Advance Refunded Bonds
Sometimes, a bond issuer wants to refinance a bond that isn't callable or wants to refund a bond in advance of its call date. Frequently, these transactions are done by governments that issue municipal bonds. In the advance refunding process, the bond issuer goes out and buys a pool of high-quality securities -- usually U.S. Treasurys -- that will pay an equivalent return to the remaining interest on the bonds. It places those bonds in a special escrow account that uses the interest from those bonds to pay the interest on the old bonds. This frees the community up to issue new bonds at a lower interest rate. If you hold a bond that gets refunded, you end up still holding a municipal bond at your agreed-upon rate, but you get the security of a U.S. Treasury bond backing it up.
Buying Refunded Bonds
Advanced refunded bonds aren't just a good deal for the bond holder. They're also a good deal if you can buy them on the open market. Frequently, these refinanced bonds trade at a discount to an equivalent investment in a straight Treasury bond. Even though the payment stream on many of these bonds comes from a U.S. Treasury investment, the market doesn't always look at them that way, creating an opportunity for a discount.