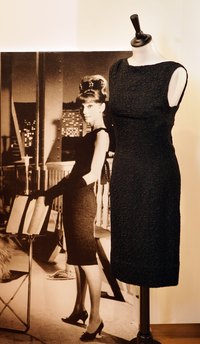 British actress and classic style icon Audrey Hepburn once said, "My look is attainable. Women can look like Audrey Hepburn by flipping out their hair, buying the large sunglasses, and the little sleeveless dresses." There are a few other factors that helped Hepburn go from her astonishing break-out performance in "Roman Holiday" to being widely recognized as one of the most stylish women of the 20th century. Follow her basic fashion principles and invest in chic staple pieces to emulate Audrey's timeless grace and elegance.
Perfectly Polished
Hepburn-inspired style can range from casual to cocktail to couture -- but the common denominator is that every look is perfectly polished and put together from head to toe. The hairstyle that is quintessential to this look is a high and sleek bun with bangs that are super short, choppy and styled straight. Like the clothing, the makeup look is clean, simple and timeless -- focus on creating a porcelain-like complexion with a swipe of light-pink blush on the cheeks. Create a doe-eyed look through false lashes, liquid liner, black mascara and a thick bold brow. Finish off with a full lip created with a matte pink or apricot lipstick during the day or wear a red matte lip on special occasions.

Little Black Dress
The little black dress -- or the LBD -- is a Hepburn fashion staple that was introduced in her films and has stood the test of time and changing trends. Now an essential staple piece in any Hepburn-inspired wardrobe, the sleeveless and form-fitting LBD is best kept simple with little to no detailing. Typically the LBD is knee length and accessorized with classic jewelry and a pair of classic, black, round-toe pumps or a pair of kitten heels.
Keep It Classic
Hepburn style is about simplicity and minimalism, so choose pieces that are neutral -- black, white and beige -- and avoid trendy styles or busy fabrics. Wear a long-sleeved, striped T-shirt with a pair of cropped, close-fitting pants and ballet slippers. A white, collared, button-down shirt is another must-have for this look and can be worn with a pair of dark-denim, straight-cut pants and a pair of penny loafers. A simple, short-sleeved, dark T-shirt with a '50s-inspired, mid-calf-length full skirt and a pair of kitten heels or ballet flats is a spot-on daytime look when you're going for Hepburn style.
Accessorize for Femininity
While accessories are typically thought to dress up an outfit, in Hepburn-inspired fashion the accessories often create the iconic style because of the simplicity of the clothes. Turn a basic black dress into a style statement with a multi-strand pearl choker necklace. Don a scarf -- either on your head or around your neck -- when you wear a plain T-shirt and dark jeans. Add a pair of gloves to infuse any outfit with a touch of sophistication. Belt everything from jeans to dresses to skirts to suits. Above all else, work your dark sunglasses. A pair of chunky, rounded frames have the desired vintage aesthetic and add serious style to whatever you wear.