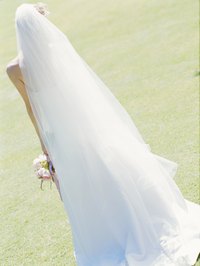 Every bride has her own wedding style. Some brides are very traditional, while others like to break the rules. Regardless of where you fall in the spectrum of bridal aesthetic, there's a look that's perfect for you. Wedding veils are still a popular option for many brides; however, as times change, so does style. While many brides may choose to wear a veil on their big day, others go a more nontraditional route.
Types of Veils
Veils come in many types, from long and show-stopping, to simple and understated. A cage veil consists of a netting that pulls just over the face. It's ideal for brides who prefer a retro but glamorous look. Fingertip veils fall a bit longer -- generally hitting anywhere from the back the thigh. Double layer veils are a bit fuller and are good for brides who prefer to wear a veil over their face. Mantilla veils are embellished around the edges with lace and lend an old-world Spanish aesthetic to your wedding look. A cathedral veil is long, opulent, and really makes your bridal look stand out.
Picking Your Veil
With so many options, picking a veil can be tough. First, you need to know what look you're going for. A cage veil, for example, adds vintage flair to your look, while a cathedral veil lends drama to your wedding gown. A fingertip veil beautifully complements simple updos, while a double layer veil can look beautiful on casual curls. The key to finding the perfect veil is to try on several and to find the one that best fits your style, your wedding dress and your wedding day hair.
Wearing a Veil
Once you've picked your veil, learn how to correctly wear it. A cage veil should sit at the crown of the head with the netting falling just below the nose. Fingertip veils look beautiful with buns. Attach the veil right above the bun and let it fall over and down past your chignon. Mantilla veils should sit about two inches from the hairline and flow back, over your hair. Double layer veils should sit on the crown of the head and fall at equal lengths on both sides.
Veil Alternatives
Veils aren't the only way to make your wedding look beautiful. For brides who don't choose to wear a veil, there are several alternatives. A silk coil hat sits on the crown of the head a bit to the side, in the same way one would wear a fascinator. A floral hair clip is romantic and perfectly suited for a low-key or beach wedding. An ornate headband is fashion-forward yet feminine. Yours can be in a number of fabrics from soft lace to sparkly, crystal-encrusted. A rhinestone hair comb adds a bit of sparkle and glamor to an up- or down-do.