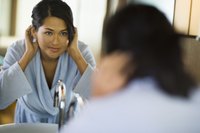 No matter how hard you try, there's no avoiding aging skin; the process is natural. The American Academy of Dermatology says this process begins in your mid-20s, and shows up on your face years later. While you cannot prevent lost skin elasticity, you can take steps to decrease the appearance of aging.
Elasticity Explained
Elasticity refers to the ability of your skin to stay tight. As collagen breaks down with age, this explains why your face may sag in some areas. The American Academy of Dermatology refers to this phenomenon as part of intrinsic, or natural aging process, which occurs beneath the skin. Collagen breaks down during your 20s, but visibly lost elasticity may not occur until decades later.
Environmental Factors
While you cannot prevent aging, you can avoid certain environmental factors that can worsen the appearance of lost elasticity and collagen. Referred to as extrinsic aging, these factors can include sun exposure, smoking, alcohol consumption, repetitive facial expressions, and sleeping positions. According to the American Academy of Dermatology, UV rays are the most common cause of extrinsic aging of the skin, and may exacerbate the effects of lost collagen. The best way to avoid premature sun aging is to apply sunscreen every day, and to avoid deliberate tanning.
Anti-Aging Creams
Using the right creams based on skin type can make a difference in the appearance of your face with age. The anti-aging beauty industry is large, with many products to choose from. The Mayo Clinic says wrinkle creams containing niacinamide, a form of vitamin B3, may help improve elasticity, but there's no guarantee. Other anti-aging skin creams contain retinol, vitamin C and hydroxy acids, which are marketed as solutions to potentially decrease the appearance of wrinkles.
Hormonal Changes
Elasticity may slow down during your 20s, but hormonal changes during menopause can speed up the process. Decreased estrogen production during this time in your life creates a loss in collagen. Hormone replacement therapy may stave off these effects, along with a healthy diet and exercise.
Treatment Options
Since elasticity changes can occur during early adulthood, it is important to take care of your skin now to reduce visual signs of aging. When you reach your 40s or 50s, however, it can be difficult to reverse signs of damage from poor lifestyle choices. Still, there are treatments available that may reduce the appearance of age spots, fine lines and wrinkles. Ask your dermatologist about how peels, dermabrasion and injectable fillers to help.