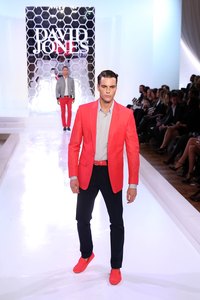 The sensible man keeps a large selection of staple shoes in all the right neutrals -- brown, black and oxblood --- and his closet houses leather shoes as well as a pair or two of white sneakers. But sensible's no fun all the time! Sometimes a guy has just got to break out the bold statement shoe. Red footwear can add the perfect amount of punch to your outfit -- and there's no shortage of fashionable styles to choose from to give flavor to any look, from casual to chic.
Sneakers
A red sneaker is a good start if a bold statement shoe is a new direction for you. Go with a classic style if you want to wear sneakers with a large range of outfits, including jeans or trousers. Remember to keep your outfit low-key when you want your shoes to be the stars. Rock a red canvas shoe with an otherwise neutral outfit of khaki pants and a white jersey tee. Add a camel-colored cable-knit sweater for cooler weather and accessorize with a brown belt so that the shoes keep the spotlight.
Slip-ons
A red slip-on will stylishly slide you from the work week into the weekend. There are several chic slip-on styles, including boat shoes, moccasins, driving shoes, slippers and loafers that are all very similar in design and often come in styles that are a hybrid of them all. Be sure to balance a red shoe by keeping the other pieces classic -- and always skip the socks. Don a pair of navy chinos and loosely pin-roll the cuff, then slip into a pair of red driving shoes. Complement the shoe with a chambray button-down and navy tie for work -- for play, swap out the button-down for a casual tee.
Lace-Ups
Polish-off a gray, tweed suit with a pair of red suede wingtips rather than the conventional choice of a black dress shoe. Red and blue are a clean and classic color combination so wear your lace-ups with a navy-blue suit and a white button-down shirt. Incorporate another primary color into your tie -- such as marigold or emerald -- to avoid a red-white-and-blue color palette. For a stylish evening outfit, add your red lace-ups to a black-on-black outfit such as a pair of black denim jeans with a black tee or sweater.
Boots
If you prefer the rugged to the refined, the suede desert boot is a versatile ankle-boot style in menswear that is both stylish and functional. It easily transitions from jeans to trouser -- and in a bold red suede it's a terrifically eye-catching shoe. Rock your red desert boots with a pair of charcoal-gray chinos and a white button-down shirt. Roll up the cuff of your pants to reveal the ankle boot and roll your shirtsleeve cuffs up to your mid-forearm or to the elbow to reflect your sportswear flair. Add a camel-colored leather belt and matching plaid newsboy cap for a perfectly coordinated outfit.