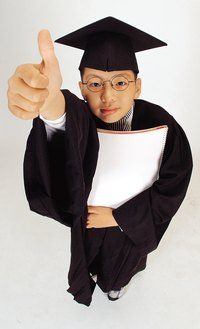 Just because you're topping your graduation-day outfit with a robe, doesn't mean you shouldn't put some thought into your look. This is your big day and more than likely there will be photographic evidence to prove it. Save yourself drama and regret by picking an ensemble that's fashionable, practical and will make you proud to show off for years to come.
Wear Something Comfortable
Between a long ceremony and the graduation parties after, there's a chance you won't get to change, so wear something comfortable that you can keep on all day. During the ceremony, heels are great, but don't wear a super-high pair you can't walk in. You don't want to wobble your way to the stage – or worse, trip on your way to receive your diploma. Keep your feet cozy by bringing a pair of cute ballet flats or flat sandals to change into after the ceremony.
Don't Go Too Trendy
Since those graduation photos will be around forever, keep your look timeless by wearing a clean, simple silhouette with classic patterns and cuts. Neon polka dots may seem cute today, but twenty years from now you may look like a dated clown. If you don't want to wear a dress, a feminine blouse tucked into a skirt or slacks also works. Go for classic shapes like pencil, a-line, or pleated midi skirts that hit at the knee.
Keep Cool
Summer graduations are oftentimes outside. Instead of sweltering through every name on the list, opt for breezy dresses in materials like cotton and linen that are light, breathable and will keep you cool on the big day.
Stay Conservative
Keep skirt length in mind, choosing a length that hangs a few inches above the knee or lower. You're not clubbing, you're graduating, and your parents and grandparents will be there. Along these same lines, keep cleavage covered.