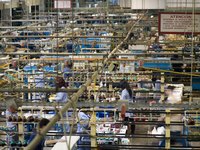 Manufacturers often leave the bulk of marketing efforts to distributors, resellers or retailers, in an effort to streamline the marketing process. Many manufacturers, however, instead develop marketing collateral for products and offer cooperative programs to share advertising costs. Despite the tendency to leave marketing to downstream entities (those closer to final sales to end users), manufacturers can employ a number of marketing strategies.
Social Marketing
Billions of people use social media and social networking sites, and many of them log in daily. While retailers and prominent brands maintain active social media accounts, manufacturers can benefit from the social media movement as well. Manufacturers that produce consumer goods might focus on social networking on Facebook and video streaming on YouTube as a way to interact with customers and showcase new or forthcoming products. Cross-linking or creating reciprocal links between social media sites and your website or product pages can help to generate interest and engagement, as well as create organic traffic.
Content Marketing
Content marketing, while dovetailing with social marketing, can function as an independent strategy for manufacturers. In many ways, manufacturers are the experts on their product's strengths and weaknesses, as well as the processes used to create those products. This positions them well to create, or guide the creation of, video content, which they do more than any other type of content creation. The same expertise that lends itself to video content creation also lends itself to the creation of written content, such as white papers or blogs, that can help secure a perception of the manufacturer as an expert or thought-leader.
Trade Shows
Trade shows offer a tried-and-true marketing strategy for manufacturers. The shows provide an opportunity for the manufacturer to highlight products and let potential buyers see the products in action. Manufacturers can now communicate their upcoming presence at events much more easily and economically through social media and even dialogue with potential customers ahead of time to help drum up interest. This informal dialogue functions as a kind of pre-marketing effort to smooth the way for the more direct marketing that occurs at the trade show itself.
Considerations
The marketing strategy choice a manufacture selects should align with its target customers. A manufacturer that builds industrial equipment, for example, can probably expect better results from content marketing, as purchasing managers that need information comprise the target customer for those products. A nutritional supplement company that sells directly to consumers, by contrast, can probably expect to get better traction from a strong social media presence and the access it provides to friends of existing customers.