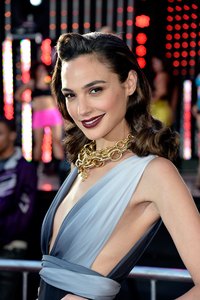 Plunging necklines on dresses and blouses are meant to showcase a woman's assets, so choose jewelry that enhances and complements this stunning silhouette to make a major style statement. Whether it is a beautiful black gown or simple T-shirt you are sporting, the right necklace can up the ante on your plunging neckline, creating a sultry look that is still sophisticated.
Short Necklaces
While plunging necklines often look best when left to their own devices, necklaces that hit just below the collar bone can perfectly enhance this sexy silhouette. Choose styles in metallics like gold, silver or rose gold to match a variety of colors and prints. Or, opt for a cool, textured style for just a hint of edge. No matter the color of your dress or blouse, a short, chunky necklace adds an instant glamour to your ensemble.
Embellished Necklaces
The simplest way to dress up a basic plunging neckline is to add a gorgeous embellished necklace that will take the wow factor of this garment to new levels. Ideal for fancy occasions like weddings, birthdays, and other celebrations, a sparkly necklace with rhinestone or crystal detailing is sure attract the eye to the beautiful shape of your plunging neckline.
Tassel Necklaces
Trendy tassel necklaces are a lovely complement to deep plunging necklines. Styles reminiscent of 1920s glamour look incredibly chic and elegant when paired with a sleek black dress or blouse. Whether in silver, gold or other bold shade, tassel necklaces add sophistication and a very current relevance to your outfit.
Long Necklaces
While a plunging neckline is an elongating piece on its own, adding long necklaces will add to this torso-lengthening effect. Be sure to keep long necklaces subtle when pairing with deep V-necks. Small rhinestones, pearls or thin strands of metallics look much more sophisticated than long, chunky styles. Given your necklace is delicate and does not overwhelm a plunging neckline, this gorgeous pairing is sure to place you among the best dressed list at any event.