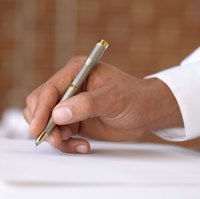 Licensing agreements allow someone to use the intellectual property of another party for a limited time or purpose. Intellectual property licensing agreements typically deal with patents, trademarks, copyrights or trade secrets. Making sure that intellectual property ownership interests are correctly addressed in a licensing agreement is important because it will clarify the expectations of the parties, and help to avoid any potential disputes following termination of the agreement.
Types of Intellectual Property
Patents protect processes or inventions and exclude third parties from manufacturing patented materials without a license for a period of 20 years. Patents are often licensed by pharmaceutical companies, manufacturers and software companies. Trademarks protect names, symbols or slogans, and a trademark may last in perpetuity as long as it is correctly maintained. Trademarks are licensed by restaurant franchises, for example. Copyrights protect works of artistic expression, such as books, songs and movies, and copyrights typically last for the life of the author plus an additional 70 years. Using an artist's copyrighted song in a movie is an example of copyright licensing. Trade secrets can include any type of idea or work, and trade secrets are only protected as long as they remain secret. Trade secrets are generally not licensed as often as other forms of intellectual property.
Ownership
In the body of a licensing agreement you should clearly define and identify the ownership structure of all intellectual property being licensed under the agreement. Also, it is common for a licensing agreement to state that nothing in the agreement shall be construed as conferring any rights of ownership upon the party licensing intellectual property. Additionally, a licensing agreement should address how the owner of the intellectual property will protect his rights following the termination of the licensing agreement.
Examples
For licensing agreements involving patents, the owner will typically dictate how the licensee can use the patent, what products the licensee can manufacture, and when certain know-how regarding the patent can be disclosed. A patent licensing agreement might also state that the licensee is required to disclose any discovered improvements to the owner upon discovery. A licensing agreement for a trademark, such as a restaurant franchise agreement, will often state when and how the trademark can be used. Because trademarks serve to represent the quality of goods, a trademark licensing agreement might also state that the owner of the trademark reserves the right to cancel the agreement if the licensee is not providing a high-quality product. For copyright licensing agreements, the owner of the copyright might want to specify that any derivative works created under the licensing agreement shall be the property of the original copyright owner.
Trade Secrets
Because trade secrets can only be maintained as long as they remain a secret, the owner will want to take special precautions to ensure that any disclosed secrets will not become public knowledge. A trade secret licensing agreement will identify when and how trade secrets will be disclosed and it should limit the disclosure to only necessary parties. Additionally, a trade secret licensing agreement should also be accompanied by a non-disclosure agreement in order to protect the rights of the owner in case of inadvertent disclosure of trade secrets.