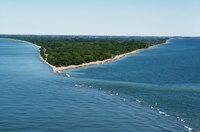 With more than 3 million annual visitors, Cedar Point Amusement Park may be Sandusky's most widely known attraction, but plenty of grown-up offerings lure visitors to this Ohio town as well. Sandusky sits along Lake Erie's southern coast between Cleveland and Toledo. Its 22 miles of shoreline provide access to diverse water adventures, a historic downtown offers shopping and dining, and cultural attractions inspire learning and fun.
Water Recreation
With Lake Erie at its door, fishing is a favorite Sandusky pastime. Anglers cast their lines from several city piers, including the pier at Battery Park and the Miegs Street pier. Charter operations such as Speerfish Fishing Charter lead customers to hot spots for reeling in walleye, perch and bass. Numerous public and private marinas accommodate private boating. Fun cruise options include Lake Erie island hopping and sightseeing adventures to Pelee Island for winery tours, hiking and biking fun. The Goodtime I offers Friday night dance cruises and themed party cruises. For landlubbers, a stroll along the waterfront -- Sandusky Bay Pathway -- provides a relaxing outing.
Historic Sightseeing
Explore Sandusky's historic downtown district for insight into the city's past. Populated by German and Irish immigrants who brought stone masonry skills to the New World, many historic Sandusky buildings reflect their heritage styles. Architectural highlights include the Cassedy-West Building, constructed in 1887 and featuring carved stone enhancements. Reflecting a Spanish flair, the G.A. Boeckling Building was constructed in 1928 to serve as administrative offices for Cedar Point Resort. Hubbard's Block was built in 1854 of limestone and sandstone as home to the Cosmopolitan Art and Literary Association, a nationwide organization promoting the arts.
Museums
Feel like a kid again with a visit to Sandusky's Merry-Go-Round Museum. The centerpiece of the museum collection is a restored Allan Herschell carousel. Museum displays include traditional woodcarving tools used in crafting carousel animals. Demonstrations by museum artisans, experts in carousel restoration, provide opportunities to observe their work.
Relive the romance and historic dangers of travelling the inland seas at Sandusky Maritime Museum. Interactive exhibits highlight Sandusky area shipwrecks, including the F.H. Prince, St. Louis and America. Learn about boat building, commercial fishing, ice harvesting, passenger travel and Lake Erie pirates.
Theatre
Laugh, cry and be inspired at Harlequins Community Theatre, Ohio's oldest continuously operating community theatre. Staging four productions each year, Harlequins presents Friday and Saturday night shows and Sunday matinee performances. Founded in 1927, the 97-seat theatre is housed in a historic coach house.
Listed on the National Register of Historic Places, the Sandusky State Theatre showcases performing arts and film. It opened in the 1920s as a vaudeville house and remains a cornerstone of the region's cultural scene. Performances range from comedy acts to ballet. Tours of this landmark theatre are available by appointment.