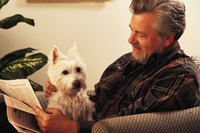 Most dogs love being physically affectionate with their human companions, and sitting in your lap is one way to get close to you -- the person they love. Most laps are soft and comfy places, which a dog naturally craves. Your lap also gives your pup an elevated vantage point to see everything that's going on around him. Since it's hard to ignore a dog who's right on top of you, your dog may also use your lap as a perch from which to get your attention.
Affection
Your dogs may seek out your lap because he feels a sense of love, comfort and care when he's in physical contact with you. This is especially likely if you've been at work all day and your pup is genuinely happy to see you return. If your dog suffers from separation anxiety, he may be even more likely to seek out your lap as a way to reassure himself you aren't going anywhere.
Pack Mentality
When dogs live in packs, they often sleep huddled together and on top of one another. This is also the way littermates interact with one another in their early weeks of life. Sitting on your lap can help recreate that comforting natal experience as well as fulfill an instinctual need for physical contact.
Reward
If you enjoy having your pup on your lap, and you encourage him to sit with you, he has probably come to associate your lap with the cuddles and affection you likely give him when he's there, reinforcing and rewarding his behavior. He may even consider your lap his territory, and may potentially show aggression to others who come near his perceived space.
Dominance
Your dog may be trying to exert his dominance over you by sitting in your lap. In this instance, his physical presence is a way of keeping you put and showing you he thinks he's top dog. If you live in a multiple dog household, you may have two or more dogs jockeying for position on your lap as a way to claim you and mark you with their scent.
Comfort
Your lap is probably a warm and comfortable place for your pup, which is why he wants to be there. He may also be showing you empathy with his presence, particularly if you're feeling under the weather or having a bad day, and he can sense you are emotionally distressed.