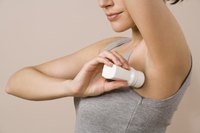 For men and women alike, the deodorant aisle can be a bewildering place. The options seem limitless -- scents span from basic to exotic, brands range from generic to downright fancy and application methods include the classic stick, the roll-on, the pump and the aerosol spray can. In the battle between aerosol and roll-on, the victor ultimately depends on your personal preferences, but knowing the basics certainly helps ease the choice.
Basic Comparison
Aerosol spray deodorants typically dry faster than roll-on varieties, and they are invisible upon application, which helps you avoid the white marks caused by many roll-ons. Depending on the brand, you may be able to apply the spray all over your body rather than just under your arms -- check the label to be sure. However, roll-on deodorants deliver their active ingredients directly to the armpit, rather than dispersing them as a mist. This may heighten the effect of those ingredients when compared to sprays, making them a potentially stronger choice if you tend to sweat heavily.
Variations
Regardless of the application method, ingredients make a big difference in deodorants. The chemical triclosan effectively fights odor-causing bacteria, but it may impact your body's innate bacterial resistance, while natural ingredients such as tea tree oil and silver do not have that effect. Roll-ons are far more likely to come in unscented varieties than aerosol deodorants, in case you have a sensitive nose. Your own distinct body chemistry also affects the effectiveness of deodorants, whether they're roll-ons or sprays.
Eco-Friendliness
Sometimes, your conscience trumps your armpits when it comes to health and beauty decisions. Despite the ban on chlorofluorocarbons, or CFCs, and ever-tightening environmental standards, aerosol sprays still pose a significant threat to the environment. These sprays release greenhouse gases into the air, which break down the earth's protective ozone layer. Some modern aerosol deodorants limit their environmental impact with progressive designs, but the roll-on option continues to serve as the safer bet for Mother Nature.
Further Consideration
On a logistical level, compact roll-ons are easier to handle and transport than sprays. If you're traveling, TSA imposes limits on the size of both gel and aerosol spray deodorants in carry-on baggage. Remember, products labeled "deodorant" actually contain ingredients that help curb the bacteria responsible for body odor, while antiperspirants simply reduce sweating by temporarily plugging pores with aluminum salts.