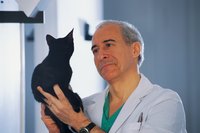 A cat can develop bald spots in front of his ears for a variety of reasons, ranging from parasites to bacterial growth and yeast infection. Veterinary attention is required. Your medical professional will examine the area; discuss your cat's overall health, grooming and diet; and make an accurate diagnosis to ensure your pet gets proper treatment.
Yeast Infection
Yeast infections are common in front of a cat's ears, and they're usually treated with a topical antifungal medication. A discharge in the area may also be noticeable. While the fungal infection doesn't necessarily cause the bald spots, the cat's scratching in this area can lead to patches of hair loss that appear to be bald spots.
Ear Mites
If your cat has ear mites, you're likely to see dark spots inside his ears, and patchy or scabby bald spots outside and at the base of his ears. They are usually accompanied by a good deal of scratching on the part of your cat. Treatment typically involves medicated mineral oil drops for the ear and a full cleaning of the cat's bedding to prevent recurrence.
Parasites and Allergies
Bald spots can indicate skin allergy or parasitic infestation. Fleas and mites, in particular, can cause skin to itch and a cat to groom or paw excessively to alleviate the discomfort. Fast treatment will protect against parasites spreading to other household pets or to you.
Ringworm
If your cat has bald spots shaped like rings, she may have a ringworm infestation. This disorder is most often found in kittens and young cats, especially strays or cats recently adopted from a shelter. Ringworm can spread quickly, both to other animals and to humans. Vet evaluation is required to assess the severity of the condition. Treatment typically includes antifungal creams or shampoos.
Skin Lesions
Skin lesions or flat tumors may initially appear to be bald spots. Any type of skin growth on your cat needs your vet's attention. It could be a completely benign growth or an indication of skin cancer. Proper diagnosis ensures appropriate treatment.
Health Issues
If your cat is shedding more than normal or is shedding in patches that create bald spots, she may have skin allergies or poor nutrition. Such symptoms may indicate underlying medical condition that require further evaluation. Seek a vet's input to ensure your cat gets proper diagnosis and treatment.