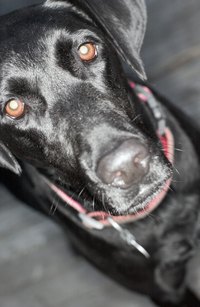 Dogs and human beings can relate to each other in many ways, but the former cuties are usually a lot less discerning about what they put into their mouths. When cicadas are out and about in droves, it can be hard for curious dogs to resist munching on these rather clamorous insects -- and sometimes even lots of them at a time.
Dogs and Eating New Things
Cicadas are not known to be poisonous to dogs, and they also aren't thought to pass on any diseases, either. If your dog eats too many of them, however, he could experience some discomfort. Some dogs, when the opportunity strikes, nosh on cicadas like they're some tasty delicacy. It isn't at all uncommon for your furry guy to feel ill after eating totally new things, whether insects or even a different brand of canned food. Cicadas in general are not thought to bring upon permanent problems in canines, though.
Chitin
Apart from the whole "newness" factor, cicada consumption can be troubling because of the insects' firm outer structures, which are called exoskeletons. Exoskeletons don't digest well and as a result can make your dog feel less than wonderful. If your pooch takes in enough chitin, one of the components of exoskeletons, you might notice symptoms such as throwing up, diarrhea and difficulties in passing stools. If anything causes you to think that your pet might be suffering from cicada-induced woes, take note and get him prompt veterinary assistance.
Caution
Cicadas sometimes are inevitable outdoors, particularly when they rise in massive numbers after 17 years of living peacefully underground. When cicadas abound in your surroundings, carefully supervise your dog's time outside just to make sure he doesn't view all of these insects as being part of some kind of buffet. Make it a goal to keep your pet's focus away from the seemingly endless cicadas and instead on his tasks at hand -- getting exercise or eliminating. Since cicada numbers are often overwhelming, it's not always easy to stop dogs from chowing down on a couple of them.
Innocuous Cicadas
Apart from the concept of safety in consumption, cicadas are also rather innocuous creatures. Stinging and biting aren't part of their behaviors, so you can cross that worry off your list -- for your pets, yourself, your family members and friends.