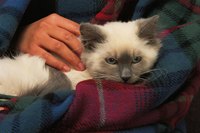 When it comes to rearing a young kitten properly, introducing him to litter box use is one of the most important early steps. Kittens can start litter training merely weeks after birth. Fortunately, the furry guys often take to the concept of eliminating in litter quickly and naturally.
Newborn Kittens
Neonatal kittens don't use litter for the first few weeks of their lives. It actually takes the little ones roughly two to three weeks to gain the ability to control their own urination and passing stools, so during that time, they're not ready to use litter boxes independently. The mother cats are in charge of encouraging their elimination processes, by grooming both their urinary and rear sections immediately following nursing sessions. If the mother cats aren't available, human caretakers can take over these tasks, lightly rubbing the kittens with smooth cloths to get them to "go."
Age of Introduction to Litter for Kittens
If you haven't been caring for a kitten since birth and just recently welcomed one into your life, he might already be old enough to use litter. Kittens generally are ready to begin using litter when they're 4 to 6 weeks old. Training them is usually a relatively straightforward job. Once your kitten is all done with eating, promptly put him into his litter box and then just wait for him to do his thing. You can also pique his curiosity in the litter by softly rubbing it using a finger. Putting a little of his prior fecal matter into the box might also help him establish the link between his bodily functions and litter.
Innate Drive
Although housebreaking wee puppies can sometimes be a complicated job, kittens usually are totally different in this department. This is because felines are all equipped with an innate drive to urinate and defecate in either dirt or sand, and then to carefully conceal it. Not only do kittens have that urge, they also have a strong tendency to emulate everything they notice the mother cat doing, whether it involves reactions to being around people to standard bathroom patterns. Because of those things, kittens frequently take to litter use instantly, although exceptions always are possible.
Training Tips
Your kitten might become a litter box champ from the start, but it never hurts to make things as simple as can be. A few basic considerations can help seal the deal in a kitten's litter training experience. First, make sure boxes are always hassle-free to access. If the outside edges are high, you might want to trim one down to give your furry pal an obvious path in and out. Also note that kittens often react well to litter that has a sandy texture. Avoid litter that might be "too much" for your pet, such as one with harsh fragrance. Remember to maintain a tidy box. Cats are usually clean creatures and are put off by mess. Privacy is also a major factor to contemplate. Strategically put the box in an isolated and calm corner of your home. Cats enjoy their privacy and often don't like going when others are around. Lastly, many cats object to boxes with tops -- perhaps due to feeling "trapped" inside of the tight quarters.