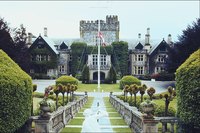 The medieval knights of old with their impressive suits of armor, spirited steeds and equally irascible tempers were long gone before Canada became a country. Yet the Canadian people embraced certain elements of their castle designs. Sporting imposing facades, thick walls and strategically placed turrets, Canada's castles include private homes turned national historic sites, impressive luxury hotels and government buildings.
Victoria's Residential Castles
Some well-to-do Canadians have taken the phrase "a man's home is his castle" quite literally. Hatley Castle in Victoria on Vancouver Island was built by James Dunsmuir, an early coal baron. Completed in 1908, the castle has served as private home and a training academy for the Canadian Navy and is now a tourist attraction on the grounds of Royal Roads University.
Craigdarroch Castle is Victoria's other private residence turned tourist attraction. Also built by the Dunsmuir family, this castle and associated gardens are just a few blocks east of Victoria's downtown core. Craigdarroch served as a military hospital during World War I and later as the first campus of Victoria College. Today it is open to the public. The castle is done up in Victorian splendor during the Christmas season. Tour guides dress in period fashion, and various entertainers and crafts people wander around the property,
Other Canadian Residential Castles
Dundurn Castle in Hamilton, Ontario, sits on a piece of land once used by the British during the War of 1812. The castle's creator, Sir Allan MacNab, took parts of the one-time military post and incorporated it into the design. Dundurn was completed in 1835 and now is a Canadian National Historic Site, part of Dundurn Park. Visitors may tour the castle, the Castle Gift Shop and the Hamilton Military Museum, all part of the park.
The F. Sowden House, in Souris, Manitoba, was built in 1910 by the family of Squire Sowden, a founder of Souris, and remained a private home until 1967. The castle-like home is now the Hillcrest Museum, filled with original furnishings and historic artifacts from the early 20th century. It is a designated Manitoba Municipal Heritage Site.
Casa Loma, a Toronto landmark, is a castle home built by Sir Henry Pellatt, who gained his fortune through investments in electricity and the Canadian Pacific Railway. Pellatt eventually lost his castle to the city over tax issues. Today Casa Loma and its surrounding gardens are open to the public. This photogenic locale is often the backdrop for movies and photo shoots.
Castle-Like Hotels
The Canadian Pacific Railway strategically placed hotels along its ever-expanding lines. Some of these properties, incorporating designs found in France's Loire Valley, were impressively castle-like. The Empress Hotel in Victoria, British Columbia, was completed in 1908 and overlooks the Inner Harbour, convenient for rail passengers transferring to ships. This National Historic Site of Canada is still a luxury hotel operating under the Fairmont brand.
The Chateau Frontenac dominates the Quebec City skyline. Completed in 1893, the property was the first in the Canadian Pacific Railway's hotel chain. A National Historic Site of Canada, the Chateau Frontenac is also still in business under the Fairmont brand.
Canada's Public Building Castles
The Middlesex County Court House in London, Ontario, is an example of a governmental building looking very much like a castle. A National Historic Site of Canada, the courthouse dates back to 1827 and is in the Gothic Revival style. Today it is a functioning courthouse complete with jail, offices and a legal library.
The Milton Court House in Milton, Ontario, opened its doors in 1855 and served as a courthouse until 1977. Today it is an administrative building.
The Bay Street Armoury in Victoria, British Columbia, is an example of a Canadian military castle. Completed in 1914, the building sits just east of the city's downtown core. This castle is still an active training center for the Canadian Scottish Regiment.