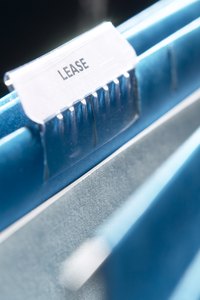 Rental properties can be not only great sources of income for investors, but also great sources of headaches. Landlords must contend with problems before, during and even after a lease. While some problems will be out of a landlord's control, others can be mitigated with proper budgeting, planning and management.
Problems Before Leasing
A landlord faces problems even before the lease starts. The biggest challenge is obtaining an appropriate renter. Doing that requires effectively marketing the property to your target renters. You need to use marketing channels where they are searching whether it be local newspapers or online. Upon finding prospects, you will need to screen them by checking for sufficient income, an acceptable credit rating, and no significant criminal history.
Problems During the Lease
Problems also pop up during the leasing period, such as maintenance. While some repairs are routine, some will not be, such as installing a new roof. Set aside adequate reserves to handle these problems. Lease violations pose another problem. Lease violations can include destroying the property, failing to maintain the property, or violating pet or smoking prohibitions. Utilize your inspection rights to monitor the tenant's compliance with the lease and take immediate action as necessary.
Problems After the Lease
Problems with tenants don't necessarily end with the lease. Tenants may refuse to leave after the lease has ended. You may have to commence eviction proceedings in court. After tenants vacate the property, you may discover they have damaged the property to an extent that exceeds the security deposit. Flooring may have to be replaced and appliances may be broken. Repairs will have to be made, and you may have to pursue court action against the tenants for damages.
Property Management Companies
Problems can multiply quickly the more properties you have in your real estate portfolio. Whether you're a part-time investor or a large investor, your time may be better utilized researching and acquiring properties than worrying about broken toilets. Many property investors decide to hire a professional property management company to manage the properties. Many companies are full service and will market, lease and monitor the properties for you for a fee -- often a percentage of the rent for each property.