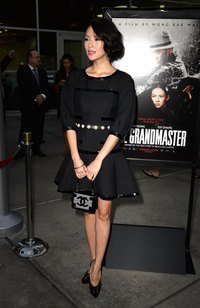 The little black dress is that one fashion staple every woman can wear. Whether you have a plain shift, a curve-hugging mini or a tailored suit-style version, accessorizing your black dress can add a cute punch of style and spice up your look. From jewelry to shoes, scarves to other accessories, accompanying your black dress with other ensemble pieces can take your look from flat to fab.
Cocktail Style
If you are going to a semi-formal or somewhat fancy event, accessorizing your little black dress can turn a so-so look into a super cute stunner. The fashion-forward beauty pros at Glamour magazine suggest adding interest to your plain black cocktail dress with a statement piece such as a bold necklace or a funky, and chunky, bracelet . When the weather gets chilly, warm up your plain party look with pretty patterned tights or stockings, or throw on a matching black faux fur shrug. Don't forget about accessorizing with show-stopping shoes. Off-set the simplicity of the LBD with an animal print shoe or a pair of heels in a bold, patent color.
Suit or Work Wear
Just because your work dress code calls for a strict style, doesn't mean you can't add to your tailored black dress and make your own fashion statement. If you are starting your work look with a basic suit-style shift or tank dress, add a pop of color to freshen the ensemble. Instead of going for a drab, dark mono-colored look, wrap your waist with a skinny bright belt. Further accessorize your work wear with a simple patterned silk scarf around the neck or bangles in the same color family as your belt.
Inexpensive Accessories
Accessorizing your black dress is one of the easiest ways to save money and turn one simple piece into an array of outfits. If you are looking to save your cash, breaking the bank on pricey accessories isn't the way to go. Instead, opt for inexpensive ideas that will still dress up your look with a cute new style. For example, the style experts at Lucky magazine suggest accessorizing a LBD with a low-cost faux croc clutch, a beaded bangle bracelet or mock diamond drop earrings. While the real deal is obviously desirable, opting for a faux accessory, such as a colorful fake alligator belt or mock pony fur purse, can add glamour to your dress without tacking on too much cost.
Night Out Style
When you need to make a statement on a night out on the town, accessorizing your black dress with a few cute pieces can turn your old outfit into an ensemble worthy of a double take. If you are going on a first date, having dinner with friends or going out to dance with your girls, creating a cute -- but not overly dressy -- look is easy if you pair key accessories with your LBD. You can go for more outrageous pieces than you would for a semi-formal event or work day look, trying out big, bold, colorful statement rings or bracelets. If you're looking to dress down your style, add a colorful or animal print cardigan or a chunky sweater over the LBD. Don't forget about accessorizing all over, take advantage of your dress's simplicity and try out an over-the-top jeweled hair clip or bold headband.