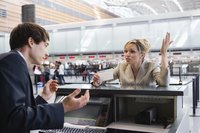 While Transportation Security Administration (TSA) luggage policies may seem to be getting ever more complicated, there's good news for travelers preparing to fly internationally. The majority of U.S. airlines adhere to very similar luggage standards, meaning what works for one works for most. Pack smart, keep luggage to a minimum and you can breeze through the airport like a pro.
Size, Weight and Number
Most U.S.-based airlines allow passengers traveling internationally one personal item such as a laptop or purse, and one carry-on bag. Carry-on allowance may differ by airline, but you can't go wrong with a bag measuring 45 linear inches and weighing no more than 22 pounds -- the universal standard for domestic carry-on baggage. If you're checking any bags, confirm the number of free bags allowed by the airline for your destination. Some airlines have different luggage allowances depending on the destination. Verify with your airline before you pack. The standard size and weight limits for a checked bag is 50 pounds and 62 linear inches. Confirm your airline's size and weight allowances for luggage, and aim for three to five pounds under to allow for last-minute additions.
Security
Secure checked bags with TSA-approved luggage locks and keep the keys with you at all times. For some international destinations such as China, the locks are required. Attach luggage tags to each of your bags with your name, contact information and final destination. The odds of your luggage being lost en route are higher when traveling internationally because of the higher-than-domestic volume of bags, airplanes and passengers. Also, because international flights frequently are booked with one airline and serviced by others, you need to ensure your bag is easy to locate in the event it is misplaced.
Prohibited Items
When packing, it's wise to assume anything prohibited on a domestic flight will not be allowed on an international one. Sharp objects such as knives, explosives, firearms, tools such as hammers, compressed canisters such as spray paint, martial-arts equipment and flammable items are best left at home. Some items may safely be packed in checked baggage, but you should confirm any item in question with both the TSA and your airline before packing. Verify customs procedures at your destination to ensure items in the checked bag won't be confiscated upon arrival.
Food, Plants and Gifts
Many countries strictly regulate the amount and type of non-indigenous food and plants passengers may bring, so check the policies at your destination before packing. Some countries forbid any outside food and plants, while others may permit a very small amount. In general, it is best to leave them at home if possible. If you plan to transport gifts internationally, pack them in checked baggage and leave them unwrapped, as wrapped gifts are subject to unwrapping and further scrutiny. Verify with the TSA and your airline that the gift is permitted before packing.