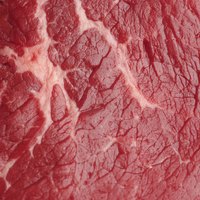 Trans fats and saturated fats are two forms of triglycerides. Trans fats are rarely found in nature, while saturated fats are common, especially in animals and in tropical oils. Polyunsaturated fats and monounsaturated fats are also triglycerides. All four forms have different health effects, based on the shapes of the triglycerides.
Triglycerides
Triglycerides are the storage form of fats. They're primarily found in the adipose tissue in humans and in seeds of plants. Each triglyceride is made up of one molecule of glycerol and three long chains of fatty acids. The shapes of the fatty acids are what determine whether a triglyceride is a trans fat, a saturated fat, a monounsaturated fat or a polyunsaturated fat. Having elevated levels of triglycerides is a risk factor for cardiovascular disease.
Saturated Fats
Saturated fats are made up of triglycerides that have three saturated fatty acid chains. They're called saturated because there are no double bonds between any of the atoms in the chains. According to "The Harvard Medical School Family Health Guide," there are more than 24 types of saturated fats. These fats are generally thought to be bad for your health, although some types are not as bad as others. The foods highest in saturated fat include animal products, such as red meats and dairy products.
Trans Fats
Trans fats are similar to saturated fats, but there is only a small amount that occurs naturally in meat and dairy products. Most trans fats are artificially created by a process called hydrogenation, which forces hydrogen atoms into vegetable oils that aren't naturally saturated. Partially hydrogenated fats are high in trans fats, and according to "The Harvard Medical School Family Health Guide," they're worse for your health than saturated fats. Most trans fats are found in solid margarine and foods that contain partially hydrogenated oils.
Beneficial Fats
Triglycerides can also be formed with fatty acid chains that have one or more double bonds in their structures. Monounsaturated fatty acids have one double bond in each chain, while polyunsaturated fats have more than one. According to the "The Harvard Medical School Family Health Guide," polyunsaturated and monounsaturated fats are beneficial for your health primarily because they may help prevent heart disease and autoimmune disorders.