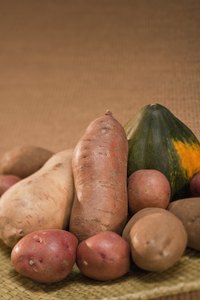 Because of its high estimated glycemic load, potatoes are restricted on the Paleo diet. A characteristic of the Paleo Diet is ingestion of foods with a low glycemic load -- essentially, the lower a food's glycemic load, the less it raises blood sugar and insulin levels. Potatoes are an important part of the Standard American Diet; however, there are several Paleo-friendly alternatives to starchy spuds.
Root Vegetables
A 2002 review in "Current Atherosclerosis Reviews" states decreasing your dietary glycemic load reduces risk of type 2 diabetes and heart disease, along with other health problems. White potatoes have an estimated glycemic load of 21, while sweet potatoes' and yams' glycemic load are 15 and eight, respectively, making them solid alternatives. To prepare sweet potatoes, shred using a food processor and then cook in butter for "hash browns," or slice into fries for baking or steam whole, and then mash with coconut milk. Pureed sweet potatoes are also a potential ingredient in Paleo baking recipes. For example, use sweet potatoes in a grain-free brownie, bread or biscuit recipe to add nutrition and depth of flavor. Parsnips and carrots are also root vegetable substitutes for potatoes, with low glycemic loads of four and two, respectively. Parsnips and carrots can be roasted with oil and herbs, boiled and mashed with coconut milk or steamed and served instead of potatoes.
Cruciferous Vegetables
Cauliflower is a versatile and Paleo-friendly vegetable with a glycemic load of only one. Cauliflower can be prepared in a variety of ways to replace potatoes; for example, enjoy cauliflower mash instead of mashed potatoes. Steam cauliflower and use a hand mixer or immersion blender to pulverize into a smooth mash. Add a splash of non-dairy milk -- such as almond or coconut -- for creaminess or mix in a bit of pureed roasted parsnips or sweet potatoes for added complexity and texture. To make "cauliflower rice," shred cauliflower in a food processor. Dress with extra virgin olive oil or coconut oil and add preferred flavors including herbs and spices. Then, sauté shredded cauliflower on the stovetop or roast in the oven until soft and fragrant. Other cruciferous vegetables, including broccoli and brussel sprouts, are also substitutes for potatoes on the Paleo Diet, both with low estimated glycemic loads of eight and oe, respectively. They can be shredded and sauteed, roasted or steamed in the place of potatoes.
Winter Squash Varieties
Winter squash varieties such as butternut, acorn and spaghetti squash are Paleo-friendly with a glycemic load of eight or lower. Roast cubed butternut or acorn squash pieces in the oven or steam on the stovetop for a satisfying substitution for roasted new potatoes. Cooked spaghetti squash is an ideal base for Paleo-friendly meatballs with marinara, ground turkey cooked with Asian spices or stir-fried chicken and vegetables.
Veggie-Based Snacks
Instead of potato chips or French fries, try veggie chips or veggie fries. Toss thinly sliced zucchini, cucumber, beets, turnips and fennel with extra virgin olive oil and spices, then roast or dehydrate until crisp. Toss kale leaves with olive oil and sea salt and bake until crisp for kale chips. The results are savory and satisfying crunchy chips that are Paleo-friendly and potato-free. For veggie fries, cut zucchini or summer squash into matchstick pieces then roast until fragrant. For a crispy coating, dredge veggie matchsticks in almond flour and spices prior to baking.