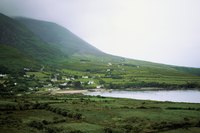 Located on Ireland's west coast, Shannon Airport welcomes flights from the United Kingdom, Europe and, at the time of publication, from Philadelphia, Pittsburg, Boston and New York. Its location makes it the perfect starting point to explore the west of Ireland, advises Frommer's. Nearby County Kerry possesses a stunning natural landscape, with a craggy Atlantic coastline, Ireland's highest peak Carrauntoohil and the Killarney lakes. As the Irish railway system does not connect with Shannon Airport, your options for the onward journey to Kerry are restricted to the roads.
Bus
Making the journey by bus will require some forward planning. Local company J.J. Kavanagh operates a service linking Shannon Airport with Limerick. At the time of publication, buses leave Coach Park 1 six times a day, and you can expect the journey time to Limerick to be between 30 and 45 minutes, depending on the time of day. Alternatively, national operator Bus Eireann's routes 51 and 343 offer a more frequent service to Limerick, departing every 30 minutes at peak times. From Limerick, Bus Eireann runs services south into Kerry, including larger towns like Killarney, Listowel and Tralee -- check the company's website for the most up-to-date timetable information. For both companies, you'll be able to buy your tickets on the bus.
Taxi
Taking a taxi offers a more convenient alternative to the bus, but is likely to be much more expensive. Shannon Airport Taxis offer a 24-hour service, with a dedicated desk within the airport arrivals hall. The company also offers a pre-book facility via its website. Agree on fare with the driver before you leave the airport, bearing in mind that, at the time of publication, drivers charge approximately 2.25 euro per mile, meaning a journey to Tralee will cost in the region of 180 euro, while getting to Killarney could cost around 205 euro.
Rental Car
Renting a car provides access to the large areas of County Kerry that lie outside the public transportation system. Five companies offer car rentals from Shannon Airport and, as ever, it's worth comparing quotes from several different companies to get the best deal. You can use your U.S. driver's license to drive in Ireland for a short vacation, but many North American drivers are likely to find the experience of driving a stick-shift, on the left, on the narrow roads of rural Kerry challenging. If you're traveling with a friend or family member, Frommer's advises letting them navigate or, if you must drive alone, use a GPS device for help with directions.
Distances
The distances involved in a journey to Kerry from Shannon Airport are not great by North American standards. Listowel, the first town of any size you'll encounter once you cross into Kerry, is 60 miles from the airport, while you'll have to cover 78 miles to reach Tralee, located on the west coast. Further south, Killarney is an 84-mile journey from Shannon Airport, while Kenmare, the country's most southerly town, is 104 miles from the airport.