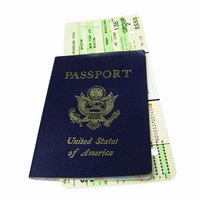 If you've recently married but don't intend to change your name, or haven't got round to submitting all the paperwork involved in changing your name on your passport, there's no problem in booking airline tickets using your maiden name. Indeed, it's vital that the name on your tickets matches the name on the identification document you intend to use, so don't book international airline tickets using your new married name unless you know you'll have a passport issued in that name on the day you intend to fly.
Names and Flight Security
The Transportation Security Administration's Secure Flight Program exists for your safety and is the reason why it's so important that the same name appears on both your airline tickets and your identification. When you buy your airline ticket, the airline stores your name as part of a list of passengers booked on the flight and, a few days before the flight departs, transmits this information to the TSA. TSA staffers check that no one named on the "No Fly" list, or deemed to require additional security screening, is listed among the passengers, and then returns the list to the airline so that boarding passes can be printed.
Matching Names
These security checks mean it's vital that your identification documents and your airline tickets carry the same name. If your tickets and passport display different names, TSA staffers will be unable to verify your identity, and as a result you are unlikely to be allowed to board the flight. Airlines previously carried out these checks internally, but since 2010 this work is done by the TSA, removing any flexibility airlines previously had in identifying their passengers.
Other Identification
Passports are the only acceptable form of identification for international flights, but the same regulations about names also apply to domestic flights. You can use a variety of state and government-issued IDs for domestic flights, such as a driver's license, permanent resident card and "trusted traveler" card, but again, it must carry the same name as your airline tickets. Don't bring ID issued in your married name to the airport if you booked your airline tickets in your maiden name, and vice versa.
Passport Amendments
Altering your passport to show your married name is straightforward, but if you've already booked tickets in your maiden name, wait until your return to make the change. Changing your name on a recently issued passport is considered an application for a name change and is free of charge, while altering your name on a passport issued more than one year ago will be processed as a renewal and has the associated fee. You'll need to be able to prove your name change by producing your marriage certificate, and complete the correct form: DS-5504 for passports issued within the past year, and DS-82 for those issued before that date.