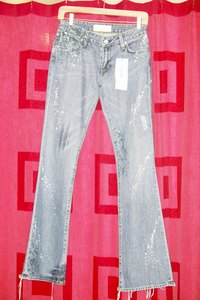 The main difference between relaxed and boot-cut jeans lies in their respective silhouettes. The boot-cut jean fits close to the body from top to bottom and presents a sleek, fitted look, while the relaxed cut is looser, providing more room for the wearer. Each style of jean is strategically designed from hip to hem to fit the body in its own fashion.
From the Top
Though either style can come with a high or low rise, the relaxed fit tends to hit higher -- closer to or right at the waist. For a woman who considers her tummy a trouble spot, or a man with a large or stocky frame, a relaxed fit may be the best bet. It will likely hit higher at the waist than a high-rise boot-cut jean, concealing a large tummy.
Pick a Seat
Boot-cut jeans fit more snugly than the relaxed cut at the hip and seat; the relaxed cut is roomier throughout this area. Because it fits more closely to the body, a boot-cut jean will slim and streamline the hip and rear, whereas a relaxed fit comes with a looser cut. "Men's Health" recommends choosing a relaxed fit with large back pockets in order to reduce the size of your rear; small pockets that sit high on the rear will increase the backside of either sex.
Slim or Spacious
Relaxed-fit jeans are cut more loosely through the thigh, giving a slightly baggy look. This feature has been incorporated into the popular "boyfriend jean" for women, which is often rolled up at the hem and slouched down casually, thanks to the loosely-cut thigh. The extra leg room makes it a prime choice for men with large frames or athletic builds. Boot-cut jeans hug the thigh, creating a smooth silhouette from the hip down for both sexes; they also make a comfy fit for men with athletic builds by providing extra room for muscled legs.
Knee-High Style
Boot-cut jeans are slimmest at the knee, continuing the sleek fit that begins at the hip. For women, this creates flattering curves along the length of the leg; for men, the knee remains loose. Relaxed-fit jeans are looser at the knee, but only slightly more close-cut than at the thigh.
The Bottom Line
Women's relaxed-fit jeans end with a slim-cut calf, creating a tapered look throughout the leg, while for men, the cut retains a similar looseness from hem to hip. Boot-cut legs for both sexes are looser at the bottom. This makes boot cuts more conducive to various types of footwear, from sneakers to work boots to pumps. Relaxed-fit jeans can be worn with any type of shoe, but aren't as accommodating in terms of room; they're more likely to bunch up where a sneaker or boot hits the leg, whereas a boot-cut jeans looks sleek with any shoe.