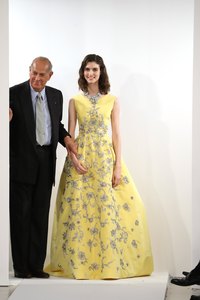 The Fashion calendar is divided into four main factions: Spring/Summer, Pre-Fall, Fall/Winter and Resort. Most designers create brand new collections for each of these seasonal subsets. While Spring/Summer and Fall/Winter are considered the biggest seasons for designers, Pre-Fall carries a great deal of weight, as well. Pre-Fall collections stand out from others in several ways, making them a very distinct subset for any fashion designer.
A Pre-Fall collection comes directly before a designer's Fall/Winter collection. Pre-Fall collections are generally smaller in depth and breadth than Fall/Winter and Spring/Summer collections. Pre-Fall collections give editors, stylists and buyers a glimpse into the designer's current aesthetic and inspiration, which allows for more editorial and styling opportunities, meaning more potential exposure for each designer.
Showing Pre-Fall Collections
Spring/Summer and Fall/Winter collections are shown during what the industry calls Fashion Week. Fashion Week, which is held in several major cities, is a structured, scheduled showing of collections. Unlike Fashion Week, Pre-Fall collections don't all come out on certain dates. Typically, collections trickle out in January as designers have completed them. While some larger labels may choose to hold runway shows or presentations, most designers opt to photograph pieces and circulate them to the press in lieu of holding official runway shows.
When They Hit Stores
Spring/Summer pieces generally land in stores in February, while Fall/Winter items hit in September. Pre-Fall pieces typically start selling for retail anywhere from May to July, bridging the gap between summer and fall for retailers. Because certain climates don't warm until later in the summer, many sturdier pieces can also be worn right away. Pre-Fall collections don't just include cold-weather clothing -- fall and winter pieces are produced, but collections will also contain breezy pieces that are wearable during the summer months.
Earning Potential
Designers like to save big, over-the-top and avant-garde pieces for runway shows. Because Pre-Fall collections typically don't include runway shows, the pieces designed tend to be more commercial, meaning they're easier to wear. Because commercial pieces are also easier to sell, Pre-Fall collections have become huge money makers for several brands, allowing them to produce pieces that are easy for the average consumer to digest.