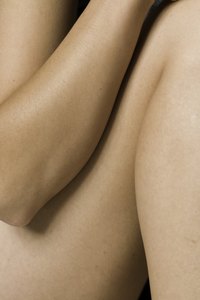 Your skin is your largest organ and it protects all the other organs and tissues that lie underneath. It's also a part of you that's visible to the rest of the world. Eating a balanced diet provides the raw materials to keep your skin healthy and beautiful.
Skin Anatomy
The skin protects all your parts underneath and it also keep fluids inside. It also helps regulate body temperature and stores a little fat and water. The skin is made up of three layers. The epidermis is the outer layer that you see, the dermis in the middle contains blood vessels, nerves and collagen, and the subcutis contains more collagen and fat. Collagen is important for healthy skin because it gives it suppleness and strength.
A Healthy Balanced Diet
A healthy balanced diet includes plenty of fruit and vegetables, whole grains, protein sources such as fish and seafood, lean meats, eggs, poultry, milk and dairy products, nuts and seeds, plus water and healthy beverages. It's also low in total fats, sodium and excess sugar. Eating a diet like this provides nutrients that maintain your skin. Avoiding a high-sugar diet also helps prevent premature aging, according to the Mayo Clinic.
Nutrients for Your Skin
Your skin needs fats and proteins to maintain it's structure, and the Vitamin C found in fruits and vegetables is necessary for strong college. Your skin cells use glucose, a type of carbohydrate, for energy. Zinc and vitamins A, D and E are necessary for skin repair and wound healing. Fruits and vegetables contain plant compounds called phytochemicals that act as antioxidants to protect your skin from pollution and sun damage. Water keeps skin hydrated and soft.
Skin-friendly Foods
A healthy balanced diet includes a variety of foods, but some specific foods might be particularly beneficial for skin health, according to Mayo Clinic. Carrots, apricots and sweet potatoes, as well as other orange fruits and vegetables, are rich in vitamin A. Spinach, kale and other leafy greens are high in minerals and vitamins A and C. Colorful berries contain a variety of phytochemicals. Fish such salmon, tuna and trout is rich in good fats called omega-3 fatty acids; and nuts and seeds contain monounsaturated fats and antioxidants.