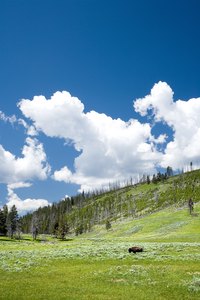 One way to tour America's oldest park is aboard one of its oldest conveyances -- vintage yellow buses. Yellowstone National Park's antique vehicles have been restored to their original 1930s glory, right down to the rollback cloth roof. Drivers regale the passengers with tales of the history of the bus and the park while cruising past herds of bison, groups of mountain goats and the occasional bear. The Yellow Bus leaves from various locations in Yellowstone and is a classic way to see this natural wonderland.
Departure Points
The 13-passenger "Old Yellow Buses" are White Motor Co. Model 706 touring cars that have been completely restored and updated to modern safety and emissions standards. In warm weather, the rollback roofs allow passengers better views of wildlife, scenery and the park's famous hot springs and geysers. You can depart from Canyon Lodge, Mammoth Hotel, Roosevelt Lodge, Lake Hotel and Old Faithful Inn; there's also an evening pickup from Fishing Bridge RV Park. Although not always necessary, reservations are recommended.
Morning
The early morning Wake Up to Wildlife tour starts with a continental breakfast before setting out to explore the northern regions of the park in search of animals hunting or grazing in the Lamar Valley. The tour is four hours long, so you might want to bring along water and a snack. Also departing at the crack of dawn, the five-hour Picture Perfect Photo Safari is led by a photographer who is familiar with photo opportunities in the park. You have a choice of the Old Faithful or Lake Yellowstone areas, but either one will net you some choice shots.

Midday
Have lunch at the Old Faithful Inn and then hop on the bus for the one-hour Geyser Gazers tour or the three-hour Firehole Basin outing. Geyser Gazers will take you past Firehole Spring, Surprise Pool and Great Fountain Geyser, with a walking stop at Midway Geyser Basin. The Firehole Basin Tour introduces you to the four basic types of Yellowstone geothermal features and includes accompanying explanations by your guide. Upon your return, head to the Bear Pit Lounge and sip a refreshing beverage as you wait for the next spouting of Old Faithful.

Evening
As the sun begins to drop, take advantage of the Yellow Bus tours designed for passengers to view the active wildlife and to marvel at the changing colors of the evening sky. Tours include the three-hour Evening Wildlife Encounters, leaving from Canyon Lodge and Mammoth Hotel; the two-hour Twilight on the Firehole that departs from Old Faithful Inn; and the two-hour Lake Butte Sunset Tour departing from Lake Hotel and the Fishing Bridge.