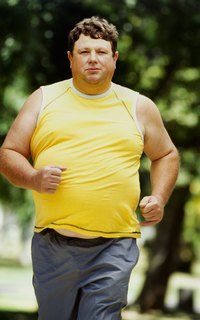 More than one third of the adults in the United States are obese, according to the Centers for Disease Control and Prevention. In 2008, obesity-related medical costs were estimated at $147 billion, says the CDC. Obesity results from energy imbalance, meaning your body receives more energy from food than it uses. Excess weight increases your risk for chronic diseases. Consult your physician to determine the best way to improve your weight.
BMI Basics
The BMI uses your weight and height to estimate how much body fat you have. It provides a good estimate of total body fat for most people. However, the calculation is less accurate for individuals like bodybuilders, since their body composition consists of a high ratio of lean mass. A normal BMI is 18.5 to 24.9, which is what you should aim for. A BMI of 25 to 29.9 is categorized as overweight. You are in the obese category if your BMI is 30 or more.
Diabetes and Hypertension
Having a BMI of 30 or greater increases your risk for more than 20 chronic diseases, according to George Washington University's School of Public Health. Being obese promotes insulin resistance, which often results in Type 2 diabetes. More than 50 percent of people with Type 2 diabetes are in the obese category, according to George Washington University. Obesity causes high blood pressure in 78 percent of obese men and 64 percent of obese women, according to GWU. High blood pressure increases your risk for heart attack and stroke.
Sleep Apnea and High Cholesterol
A BMI of 30 increases your risk of sleep apnea, a condition that results in pauses in breathing while you sleep. Sleep apnea disrupts your natural sleep rhythm and prevents your body from getting restorative sleep. This can lead to fatigue and poor concentration. Individuals with a BMI of 30 or higher are also at risk of having high cholesterol. Elevated cholesterol in your bloodstream negatively impacts your heart's health.
Reproductive Implications
If you are male, a BMI of 30 or more can cause hormonal abnormalities, sexual dysfunction and infertility, according to the Endocrine Society. Obesity can also compromise a woman's ability to reproduce. For men and women, this means your dreams of having a child are at risk. Being in the obese category increases your risk for polycystic ovarian syndrome if you are female. This hormonal abnormality causes your ovaries to produce too much of the male hormone testosterone.
Reducing Your Weight
Controlling your diet and engaging in physical activity are common ways to reduce your weight. A common initial recommendation is to reduce your caloric intake by 500 calories per day. The key is to consume nutrient-dense foods that are low in calories. Engaging in at least two-and-a-half hours of moderate-intensity exercise each week plays a role in weight loss and maintenance. You can expect to lose about 2 pounds per week with a healthy diet-and-exercise program.