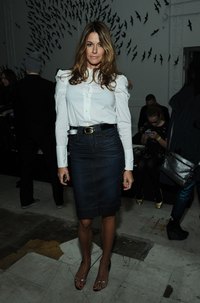 Denim is one of the oldest and most enduring American fabrics there is. That said, you can wear it a myriad of ways regardless of the garment it's designed around. In the case of denim skirts, they are not as timeless as a pair of well-fitting jeans, but still remain a fashion staple. If you need a little wardrobe inspiration on how to style your long denim skirt for various occasions, check out a few of these tips.
Collared Shirt
Perhaps one of the simplest ways to style your long denim skirt is to wear it with a crisp, collared shirt, especially if it's in white. Collared shirts and denim of any kind is a fabulous style match, so there should be little surprise that they go quite well with a long denim skirt. You can pull off this look a few ways that are effortless and chic. Tuck your collared shirt inside your denim skirt, only leaving the top two or three buttons undone. Or, tie the bottom of your collared shirt in a knot and roll up the sleeves for a more casual way to wear this skirt/shirt combo.
Flowy Blouse
For a less structured and predictable look, you can always pair your long denim skirt with a stylish, flowy blouse. Blouses with oversized, billowy sleeves, an asymmetric hemline or ties at the neckline are all style details that you should look for to complement your denim skirt. Since your skirt is long and flowy blouses have a tendency to appear bigger, you may want to opt for styles with asymmetric hems or tuck them in to avoid a sloppy appearance. To ensure you always look pulled together follow this rule: If your skirt is below the knee or longer, opt for flowy blouses that are more streamlined at the hip, or (as previously mentioned) tuck them in or look for asymmetric hems.
Tank/Vest Combo
Wearing a tank top and a vest together may initially seem like a basic (and maybe even boring) way to accentuate your long denim skirt. However, upon closer analysis you will be delighted to know that you can choose from many types of tanks and vests. Of course a basic white tank and a black or denim vest are appropriate, but look into alternative options as well. Black tanks, those that are brightly colored and styles containing prints, patterns and embellishments are equally edgy and eye-catching. The same style rules apply when it comes to choosing a vest to pair with your long denim skirt: Whatever type of tank you choose, opt for a vest that is the opposite for unexpected style flair.
Crop Top/Off-The-Shoulder Top
The contrast of showing a little skin on your upper body while your lower body is completely covered by your long denim skirt is the epitome of edgy style. Wear a crop top or an off-the-shoulder top for the perfect complement to your ensemble. This is a great style option during the warmer months of the year or for nights out on the town, as the look is sexier than other garments you might pair with your skirt. If you prefer a more modest look, you can always layer a thin tank top or camisole underneath your crop or off-the-shoulder top for additional coverage.