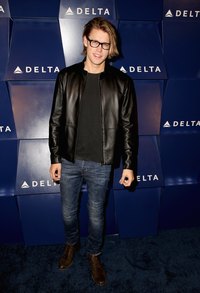 Leather jackets are a fall season fashion staple and having a variety in your wardrobe will leave you with plenty of outfit possibilities well into spring. While the style capabilities of this versatile piece can seem endless, certain combinations can make for an incredible outfit fit for a wide variety of occasions. While dresses, skirts and even shorts can pair fabulously with a leather jacket, fall and winter dictate you be more covered up. Pair a sleek leather jacket with a variety of stylish pant options to form outfits sure to carry you through chilly weather impeccably dressed.
Denim
Pairing a leather jacket with denim is a sure-fire way to form a cool and casual ensemble. Whether the jacket you're working with is black, brown or tan, pairing one with a simple T-shirt and jeans creates a look that's perfect for just about any laid-back occasion. Women can pair theirs with sleek stilettos or riding boots, while men can choose boots or stylish sneakers in neutral tones. Graphic T-shirts, flowy blouses and button-downs are all nice pairings for a timeless leather jacket and jeans.
Brights
Bright-colored pants are a great combination for basics like a leather jacket. Pair your jacket with a soft T-shirt in a neutral shade and bright-colored denim for an ensemble that's equal parts comfortable and stylish. When rocking a garment so vivid, keep other aspects of the outfit neutral. A tough, but chic, leather jacket layered over a simple black tank top and paired with red jeans and sleek, black pumps is a simple and incredibly stylish outfit to try.
Leggings/Jeggings
Leggings and jeggings are among the most comfortable pairings for leather jackets. With the option to be dressed up or down, chic leggings should be worn with long, tunic tops and cropped leather jackets for a cool play on proportions. Whether worn with boots, wedges or high heels, casual leggings and jeggings mesh perfectly with the laid-back, yet luxurious, vibe of a rugged leather jacket.
Slacks
For occasions that call for business casual attire, a brown leather jacket paired with khakis is a fashionable option that's professional with just the right amount of style. Similarly, a black leather jacket can pair wonderfully with khakis, dark colored slacks or even an unconventional shade, like maroon. Tan and camel colored jackets look best with dark slacks, as well. Few garments are as classically trendy as the leather jacket, so no matter the pairing, be sure to rock it with attitude.