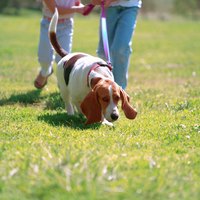 On streets and pathways all over the world, dog owners walk briskly with tiny bags of potty offerings swinging from their hand and canine companions trotting contentedly beside them. Dog breeds vary from country to country. A dog park in New York may cater to breeds far different than what you might find across the sea.
The Dog in Ancient Times
Pythagoras once said, "As long as man continues to be the ruthless destroyer of lower living beings, he will never know love or peace." In ancient Greece, dogs were both revered and sacrificed. Black dogs were believed to have been sacrificed to Hecate, often referred to as the "she dog," and the goddess of witchcraft and sorcery. Long before dogs were widely accepted as man's companion, they were primarily revered as protectors, herders and hunters.
Dogs of Ancient Greece
Perhaps the most common breed of ancient Greece was the molossus. History indicates it was Alexander the Great who first bred the molossus dog, known for its strong torso and short muzzle. Now extinct, the molossus was a cross between the great war dogs of Macedonia and Epirus, and an Indian short-haired dog. The molossus is believed to have been used by the Greeks in ancient times for dog fighting, and is ancestral to the modern-day mastiff, and such breeds as the Great Dane, Saint Bernard, Newfoundland and the rottweiler. Some argue the molossus was a leaner dog, similar to the greyhound, whose primary purpose was hunting and herding.
The Greek Dog in Modern Times
A few of the breeds of Ancient Greece are still in existence today, although the Alopekis, a small Greek hound, is in great danger of extinction. Data collected from 2005 - 2012 indicated that only 58 of these dogs were still in existence, according to veterinarian Spyros Chliounakis, who suggested the species will soon disappear unless action is taken to prevent such a tragedy. The Cretan hound, slender in stature and gentle natured when not on the scent of prey, is native to the island of Crete, and artifacts suggest the breed dates back 3,500 years. The Greek harehound, or hellenikos ichnilatis, athletic and robust in stature, is a short-haired hunting dog, known for its fine nose and fast gait. The Greek harehound, playful and affectionate, is one of the oldest known ancestors of modern European "scent hounds."
The Companion Dog
Regardless of origin, how the dog is deemed in modern society both differs and shows similarities to the dogs of ancient times. Great care is shown to today's dog, from the high society tea cup, to the herding dogs of the farmlands, but one constant remains: Today's dog is primarily seen as man's best friend.