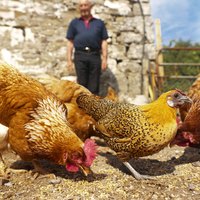 Poultry producers commonly use inbreeding as a poultry management tool. In many cases, inbreeding chickens can produce desirable qualities or can cement certain breed characteristics when creating a particular chicken breed. While inbreeding has negative connotations in humans and mammals, hatcheries regularly inbreed their chickens to produce preferred traits and eliminate possible undesirable ones.
Inbreeding Definition
Two types of inbreeding occurs regularly in hatcheries. One is close inbreeding. The other is often called line-breeding. Close inbreeding occurs when the hatchery breeds father to daughter, brother to sister or mother to son. Line-breeding occurs when the hatchery breeds cousins.
Benefits to Inbreeding
The purpose of inbreeding is to concentrate on certain qualities within the birds. Doubling up on certain genes will increase the amount of desirable qualities as well as bad ones. However, in chickens, you can quickly double up on the good genes and eliminate birds that have undesirable characteristics. Hatcheries and laboratories have been doing this for years, thus improving their layer lines.
Detriments to Inbreeding
Inbreeding caused certain lines in the laboratories and hatcheries to be lost due to lack of vigor and fertility. Just as you can focus on good qualities, you can express bad qualities when you inbreed chickens; however, most hatchery birds have been inbred, the undesirable birds culled.
Inbreeding in the Backyard Flock
So, does this mean you can inbreed your birds without issue? According to the book "Raising Chickens for Dummies," it is generally not a good idea to inbreed if you are raising a flock. The book recommends that you consider line-breeding instead, because inbreeding may cause a drop in fertility in future generations. In fact, early laboratory inbreeding tests in the 1920s through the 1940s show that simply breeding brother-sister combinations will eliminate that line in a few generations due to lack of fertility. However, if planned correctly with several viable poultry lines, heavy inbreeding can produce successful outcomes. Some engineered lines were more than 98 percent inbred.
Inbreeding Your Flock
Whether you choose to inbreed your flock largely depends on whether you are looking for viable eggs for incubating. Unless you have a large number of hens, it is unlikely that you will produce a sustainable inbred flock for several generations. It is best, then, to introduce new birds into your breeding program, even if they are distantly related. If your hens are there only for consumable eggs and not for incubating, it doesn't matter whether your rooster mates with his sister hens.