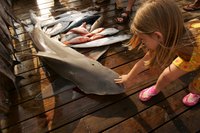 The city of Destin's official seal reads, "World's Luckiest Fishing Village," and many anglers arrive every year to try their luck in the bountiful waters of Florida's Emerald Coast. For shore-bound anglers, these coastal waters are accessible from several fishing piers in the Destin area, where you can cast a line for redfish, bonito and a host of other game fish.
Piers
The Okaloosa Island Fishing Pier is the closest pier to the city of Destin, extending more than 1,300 feet onto the Gulf of Mexico about four miles west of the Destin Bridge. The pier is open 24 hours a day during the fishing season, and daily from 5 a.m. to 9 p.m. from mid-March through mid-October. Other piers in the area include the 1,500-foot Navarre Beach Pier, located about 30 minutes west of Destin and open daily from 5 a.m. to 10 p.m., and the Pensacola Beach Pier, a 1,470-foot-long fishing platform about an hour west of Destin that is open 24 hours a day, year-round.
Fish Species
Whatever time of year you choose to visit, a wide range of fish is available from the Destin area's fishing piers. Winter visitors can catch flounder, bonito and redfish, while the summer months offer bluefish, king and Spanish mackerel, ladyfish and bonito, among others. You can also catch baitfish from the piers throughout summer and fall, and Pompano, cobia and sheepshead are available during the months of March and April. Of course, the diverse waters of the gulf often reward anglers with an unexpected catch, and tarpon, barracuda and sharks are not unheard of in the area.
Tips and Tactics
Live bait is the offering of choice for many pier fishermen, with minnows, shrimp and peeler crabs among the more common live baits. A frequently-used bait rig involves two treble hooks on a light-gauge wire, which allows the bait to swim freely; you can also use a sinker to keep your offering near the bottom. A variety of artificial lures can also be effective -- pompano jigs with a white head and pink tail are a perennial favorite -- and most Destin-area piers have bait and tackle for sale and rods and reels available for rent.
Considerations
The fee charged to fish from the piers varies depending on the specific pier and the season of your visit. Seasonal rates are often available, along with discounts for children and seniors. A Florida fishing license is not required to fish from any of the Destin-area piers, but all statewide fishing regulations, seasons and limits apply. You can find a complete guide to the state's angling regulations available on the Florida Fish and Wildlife Conservation Commission website, and as a free printed pamphlet at most bait and tackle stores.