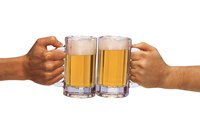 Located halfway between Sacramento and San Francisco, the city of Fairfield, California, seat of Solano County, is the home to a Jelly Belly candy factory and an Anheuser-Busch brewery. This city of 100,000 is also the home of Travis Air Force Base, a major military facility. While a bit off the tourist radar, visitors to Fairfield can nevertheless enjoy any number of activities, including brewery tours, self-pick produce ranches and an annual tomato festival.
Brew Tour
If you've ever wondered about how beer is made, take the complimentary Budweiser brewery tour and learn about the entire process, from the selection of hops to packaging. The whole family is welcome on the hour-long tour, although only those over the age of 21 may partake of free beer samples. For an extra charge, beer connoisseurs may want to make reservations for the two-hour Beermaster Tour, a behind-the-scenes excursion to the brew house and lager cellar. This tour also features tastings, with the lineup including a draft taken directly from the finishing tank. Beer School, a class in beer appreciation, is also available twice daily for a small fee.
U-Pick Farms
Many travelers are irresistibly drawn to the numerous roadside produce stands that pop up during Northern California's warmer months, but in Fairfield you can have a true hands-on experience. Grab a big white bucket at Castaneda Bros. and head to the fields to pick -- depending on the season -- watermelon, really hot peppers or tomatoes. Neighboring Erickson Ranch not only has U-pick produce, including fall pumpkins and gourds, but you can also scoop up a basket of summer flowers. If you're feeling lazy, however, both places have outdoor stands where you can fill up a bag with everything from peaches to persimmons. Real produce aficionados might want to visit Fairfield in August for the annual two-day tomato festival, an event that features carnival rides, various types of entertainment, a Bloody Mary contest and locally produced food.
Swim, Race and Golf
Winter or summer, if you want to splash in the water, the Aquatics Complex at Allan Witt Park features an indoor pool with a retractable roof, a lazy river, two 30-foot pool slides and a snack bar. Outdoors you'll find picnic tables and a shallow-water kiddie play area with climbing structures and water spray toys. If you prefer a drier thrill, head for Driven Raceway and zoom around the track in an Italian electric kart racer. Take note that kids must be a minimum height of 48 inches to race and those under 13 must be accompanied by an adult. All racers must also participate in a safety orientation session before getting behind the wheel. Get into the swing of things at one of Fairfield's golf courses. Try for a hole-in-one against the backdrop of rolling hills at Rancho Solano or Paradise Valley; both courses are open to the public.
Jelly Belly Tour
The moment you step through the door you will smell the enticing aromas of cinnamon, chocolate and other sweet flavors being cooked up to make the world-famous Jelly Belly jelly beans. You will be greeted in the lobby -- decorated with giant jelly beans and brightly colored hot-air balloons -- by your guide, who will take you on a 40-minute complimentary tour of the factory. While on the tour, you'll receive a free hat, see jelly bean art, eat a bean-shaped hamburger and sample any of 50 jelly bean flavors. Tours run continuously from 9 a.m. to 4 p.m., except for Christmas, Thanksgiving and Easter. No reservations are necessary.