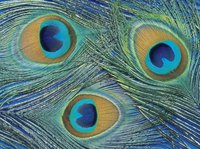 When a mature male peacock fans out his colorful tail, he displays a distinctive pattern on the feathers. Near the top of each feather is an eye-shaped oval of color. At the center of the pattern is a dark spot called an ocellus, or eyespot. From a distance, it may look like a hole in the feather, but if you look closely, you'll discover that the spot is part of the display that sets the peacock apart among birds, both wild and domesticated.
History of the Peacock
A native of India, the peacock has been domesticated as an ornamental bird for thousands of years. The male bird's tail contains about 150 feathers, and takes three years to grow to its mature splendor. Fully displayed, the brilliantly colored tail can be as wide as 7 feet and as long as 3 feet. The intricate pattern on each feather draws attention to the eyespot formation at the tip.
Females, called peahens, are drab in comparison, their tails short, their body feathers a dull mix of grey and brown, a touch of blue-green iridescence on the neck.
Light Reflections
The eyespot and the other iridescent colors on the peacock's tail feathers are not pigmentation, but are produced by the way the structure of the feather reflects light. A peacock's feather is actually brown, but to the eye it takes on the iridescent green, blue, and bronze hues. Some other birds, as well as some butterflies and other insects, also have this kind of reflected coloration.

Purpose
Experts know peacocks display their feathers during courtship, but they don't all agree about the advantages conferred to the bird by the eyespot pattern. Some think the pattern attracts more females, but some studies have concluded that a larger display of eyespots does not confer an additional competitive courtship advantage.
Domesticated Peafowl
Peafowl are related to pheasants, and their needs are different from those of backyard birds such as chickens or ducks. They require a large amount of space and prefer roosting in trees to coops. Their loud, startling call requires considerable distance from the nearest neighbors.