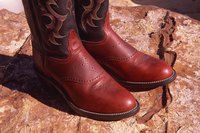 Cowboy boots have graduated to fashion classic -- they may go in and out of style, but if you love them, there's no reason not to flaunt them any time of the year. Cowboy boots -- or cowgirl boots if you prefer -- are definitely casual wear, but you'll find that they can be surprisingly versatile style-wise. No need to stick to denim jeans when wearing them; a pair of form-fitting leggings works just as well and lets you display any fancy tooling or other decoration your chosen pair of boots may bear. The only question left is what to wear on top.
Flannel
Pair an oversized flannel shirt with a pair of solid neutral-colored leggings and your favorite pair of boots for an easy outfit. This look is a little too dressed-down for the club, but it's perfect for a picnic date on a Saturday afternoon.
Western Shirt
For something a little dressier but still on the casual side, choose an oversized Western-style button-up shirt or blouse to wear over your leggings and boots -- the kind with embroidered accents across the shoulders. Once again this works best with solid-color leggings, although you should feel free to try out just about any hue that complements your boots. Accessorize with a leather belt and ornate buckle.
Tunic
Just about any tunic-length top will work well paired with cowboy boots and leggings. Try a loose poet's blouse, a sleeveless crochet tunic, an embroidered long-sleeve tunic, a V-neck, a boatneck or a cowl neck. If you choose a tunic in a solid color you can experiment with patterned leggings here, but don't get too funky if your boots are anything other than a solid color, too. Otherwise, feel free to choose a funky print or graphic for your tunic top. Add some chic jewelry, and you're ready for the nightlife.
Long Sweater
For a slightly more elegant look -- or for chilly weather -- pair leggings with an oversized sweater. You can go with a pullover here -- even a cable-knit turtleneck. Another option is to wear an oversized cardigan over leggings and a plain or graphic tee. Experiment with colors and textures -- ribbed leggings for example.
Dress or Skirt
Never forget that leggings can act as a cold-weather substitute for tights or stockings. Wear solid-color leggings beneath a shirtwaist dress or denim skirt and then add your favorite pair of broken-in cowboy boots for a casual chic look. Leggings permit you to get away with a shorter hemline than you might be comfortable with in bare legs, so feel free to break out the minis.