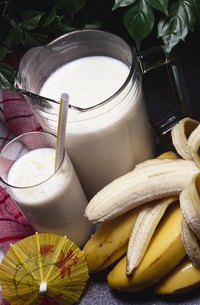 As weight gain and weight-related diseases increase, more and more Americans are becoming conscious of the impact of their diet. As you try to make healthier food choices, seemingly healthy foods can undermine your efforts. As a rule, preparing your food from scratch using whole-food ingredients is an effective way to avoid the trap of unhealthy food masquerading as nutritious.
Energy Bars
When you think of an energy bar, you likely envision a nutritious snack. While some energy bars contain a healthy proportion of nutrients, many commercial brands are high in calories and laden with high-fructose corn syrup, other added sugars and saturated fats, warns registered dietitian Katherine Brooking. Instead of reaching for an energy bar, she suggests munching on 1/4 cup of trail mix and some low-fat string cheese. This way you can have a high-protein snack without risking unhealthy ingredients.
Blue Corn Chips
The manufacturing industry promotes blue corn chips as healthy and antioxidant-rich. Health-conscious people everywhere are ditching white and yellow corn chips in favor of blue. Cornell University Researchers found that while raw blue corn is more nutritious and richer in antioxidants than white or yellow, the manufacturing process significantly reduces the beneficial nutrients. There is virtually no difference in the nutrient profiles of white, blue and yellow corn once processed into corn chips, according to a study published in the April 2007 issue of the "Journal of Agricultural and Food Chemistry."
Wraps
Most people think of tortilla wraps as a healthier alternative to bread. However, even if you fill a tortilla wrap with vegetables and lean protein, you might not be doing yourself any favors. The "Shape" magazine website points out that a large, wheat tortilla wrap can contain between 400 to 800 calories on its own before even adding your ingredients. "Prevention" magazine dietitian Cynthia Sass adds that many commercially manufactured wraps contain partially hydrogenated oils and other unhealthy ingredients.
Commerically Prepared Smoothies
A morning smoothie has quickly become a staple for many health-conscious individuals. However, commercially prepared smoothies are often not as healthy as you may assume. While most smoothies start out healthy with your choice of fresh or frozen fruits, they are usually loaded with added sugars. They also often come in large servings. Brooking points out that some smoothies can contain up to 500 calories. Opt to prepare your smoothies at home so that you can control the ingredients and serving size.