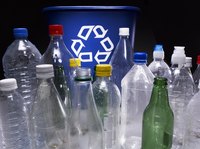 "Going green" is one of the hottest modern trends. Green packaging is any process that replaces traditional packaging -- such as plastic and non-biodegradable materials -- with packaging materials that consume less energy, resources, waste and water. As more and more people take notice of global warming, environmental pollution and other "green" problems, the demand for green packaging is increasing as well. In fact, the green packaging market size is projected to rise to $212 billion by 2015.
Worldwide Demand
In a 2011 study by the market research firm Freedonia Group, worldwide demand for green packaging was projected to rise 5.7 percent per year to over $200 billion in 2015. This includes demand for recycled materials, reusable packaging and biodegradable supplies. The same study estimates that demand for recycled packaging will remain the largest green product type, but that reusable packaging will see the largest percentage increase.
Corporate Sustainability
Along with the increase in demand for green packaging, Freedonia Group suggests that corporations will begin to take more responsibility for implementing green initiatives. This is in line with predictions from a 2012 study by Transparency Market Research suggesting that demand for reusable packaging will be accompanied by a growth in global manufacturing and the differentiation of packaging into more sustainable forms. However, degradable packaging is likely to account for only 1 percent of the overall green packaging market by 2015.
Asia-Pacific Market
For companies that do business in the Asia-Pacific region, the going green trend is even more pressing. That market will remain the largest regional green packaging market outside the United States, due in large part to its food and beverage industries. However, closer to home, Central and South America will experience above average growth. Coupled with Eastern Europe and the Middle East-Africa region, these parts of the world are projected to account for 12 percent of the green packaging market. This means that the Asia-Pacific market represents the biggest share of the international market, with India, China and Indonesia seeing the fastest growth.
The U.S. Market
Businesses with operations based solely in the United States also cannot afford to overlook the green packaging trend. In 2010, the United States accounted for 23 percent of the global green packaging market. Japan and Germany were close contenders, but these markets are expected to slow through 2015 as the United States takes the lead in producing more sustainable products with more earth-friendly packaging materials.