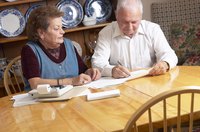 Most states offer homestead exemptions to their residents to reduce their yearly tax burden and boost interest in owning a home in the state. Setting up homestead status in the state of South Carolina requires meeting several qualifications. For those who meet the residency, age or disability status, the state offers a homestead tax exemption on a portion of the fair market value of their homes.
Qualifying
The state of South Carolina offers homestead status to you if you legally hold title to your home and have maintained legal residency for the tax year preceding your homestead application. Additionally, you must be 65 years of age or older by December 31 of the year you're applying. If you have a permanent disability, you may also qualify for homestead status.
How
To apply and declare homestead in South Carolina, you must complete South Carolina's Department of Revenue's application at your County Auditor's office or authorize someone to apply for you. The state requires you to provide proof of age with a birth certificate, Medicare or Medicaid card or driver's license. To claim a disability, provide documentation from a physician, federal or state authority.
Keep
Once you've received homestead status in the state, you need not apply annually unless there is a change in status unless you become a widow, when you'll need to reapply annually unless you remarry. Renting out your home or moving may also affect your status. Your homestead status can move with you to a new home if you meet the original requirements based on age, residency or disability. If your disability status changes, you will have to reapply as well.
Benefit
Your homestead status will exempt you from paying taxes on the first $50,000 of the fair-market value of your primary residence each year for as long as you maintain your status. In 2007, the state passed measures that also exempted homesteaders from taxes levied on their homes for school operating costs.