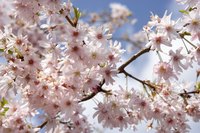 From Okinawa's tropical, sandy shores to the snowy mountain ranges in Hokkaido, you can easily visit Japan several times and enjoy a completely different experience each time. Japan's rich cultural history offers a cornucopia of places to visit and activities to enjoy, whether your interests take you to ancient religious monuments or to tree-lined parks. These highlights add a hint of authentic Japan to any trip.
Hanami
Cherry-blossom tree viewing, called hanami, is a favorite spring sightseeing ritual for both tourists and native Japanese. Families and friends often take a picnic lunch and spend the day in a public park to watch the pink petals bloom, and department stores normally sell a selection of portable foods for the event. The exact time hanami is held each year depends on its location; southern trees in and near Okinawa blossom as early as February in the tropical climate, while trees in Japan's northern region towards the much cooler Hokkaido can bloom as late as May. Trees in Tokyo and throughout central Japan normally blossom in early to mid April.
Ryokans
For those itching to experience a taste of authentic old-style Japan, carve a night or two in your schedule to visit a traditional ryokan, or Japanese-style inn. Ryokans typically feature old-fashioned Japanese rooms with straw tatami flooring and futons that are laid out for guests each evening. Most ryokans are connected to a hot spring, called an onsen, and offer either mixed or separate-gender hot spring baths during your stay. Some luxury ryokans also offer private bathing areas, although this is more rare. For dinner, many ryokans also offer "kaiseki" cuisine, a seasonal menu crafted by a chef on the premises that often features local ingredients.
Shinto Shrines and Buddhist Temples
Japan is famous for its long history steeped in Shinto and Buddhism. Shrines and temples are plentiful throughout the country, and some of them date back as far as the eighth century, such as the Izumo Taisha in Shimane Prefecture. Shinto shrines are said to house Japan's various deities, called kami, while Buddhist temples sprang up as the religion spread from China. Some temples allow more adventurous visitors to stay overnight in a practice called shukubo. You can book these stays through a bilingual travel agent or a website that specializes in Japanese travel.
Mount Fuji
A snow-capped icon synonymous with traditional Japan, Mount Fuji welcomes visitors year-round. Lying between Yamanashi and Shizuoka, this dormant volcano sits at 12,380 feet and acts as the focal point of the Fuji Five Lakes. The lakes were formed from the cooling lava of previous volcanic eruptions, which dammed the surrounding rivers. Cherry blossoms bloom at the base of the mountain in spring, while the summit is open to mountain climbers during the months of July and August. Climbing season culminates in the Yoshida no Himatsuri, a fire festival meant to pacify the goddess of Mount Fuji and prevent another eruption.