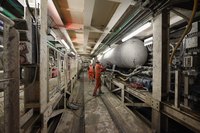 Operational audits enable you to focus on areas of your company that need improvement, while at the same time providing the opportunity to enhance areas that are performing well. During audits you have the opportunity to determine if your company's business operations are functioning at peak efficiency. Operational audits are good tools for measuring the effectiveness of internal financial controls, evaluating manufacturing operations and evaluating sales efficiency.
Audit Team
Available methods for conducting your company's operational audit include hiring professional auditors to perform the evaluation or selecting managers from across the company to perform the audit. Professional evaluation agencies are able to render unbiased evaluations since the team does not have a financial stake in your company. Managers from within your company can accomplish unbiased evaluations as long as they do not lead the evaluation of their own department.
Manufacturing Operations
Audits of manufacturing operations not only focus on current operational effectiveness, but evaluate how manufacturing operations can be improved to meet the projected needs of your company. Evaluators will focus on manufacturing systems and equipment, effectiveness of manufacturing personnel and an evaluation of manufacturing control systems. Evaluation of financial effectiveness in manufacturing operations will focus on how effectively managers controlled costs in areas such as cost of supplies, raw materials, energy usage and labor costs.
Financial Operations
Since the enactment of the Sarbanes-Oxley act of 2002, managers of public companies are required to acknowledge and accept responsibility for the effectiveness of company internal financial controls. Auditors must file reports on the effectiveness of the company's internal financial controls, and evaluate the company manager's assertion that effective financial controls are in place. Since June 15, 2005 these requirements apply to companies of all sizes, so even if you operate a small company you must focus on the effectiveness of financial controls as much as the documentation of financial assets.
Sales Operations
Sales team audits evaluate sales operations through the entire sales cycle. Sales cycles begin when your sales people initially contact customers, continues through the qualification and presentation stage and ends when payment is received and the product is delivered. Your sales operation audit will evaluate each salesperson's ability to prospect and win sales, the average time it takes each salesperson to close a deal and the average revenue generated from each sale.