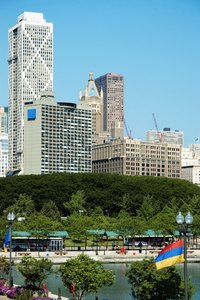 From interpreting the psychedelic scene painted on Janis Joplin's 1965 Porsche at the Rock and Roll Hall of Fame to sampling the most celebrated bourbon in the country at Jim Beam Distillery, the Midwest has a long list of famous places. Visit one of the Seven Wonders of the Modern World in Toronto, or take a trip to Churchill Downs, home of the world-renowned Kentucky Derby -- all within 400 miles of Detroit, Michigan.
Notable Landmarks
Approximately 180 miles west of Detroit, beautiful Lake Michigan draws legions of boaters, skiers and water-sports enthusiasts. Chicago's Navy Pier, 285 miles from the Motor City on Lake Michigan's southwestern shore, takes the entertainment from the water to the wharf with amusement park rides including a giant Ferris wheel. Canada's sky-high CN Tower in Toronto, located across the border around 230 miles northeast of Detroit, is classified as one of the Seven Wonders of the Modern World.
Music Attractions
One hundred and seventy miles southeast of Detroit in Cleveland, Ohio, the Rock and Roll Hall of Fame and Museum houses decades of memorabilia from rock 'n' roll's most famous musicians. See the Gibson guitar Chuck Berry played, the wild paint job on the 1965 Porsche Janis Joplin drove, and the signature glove Michael Jackson wore during his Dangerous tour. In Chicago, visit guitar-playing icon Buddy Guy's blues bar, Legends, where musicians keep the blues tradition alive nightly.
Sports Attractions
For one day each May, in Louisville, Kentucky, women wearing opulent hats clutch a Champagne flute in one hand, and their wager receipts in the other while cheering on their best bets at the Kentucky Derby. While Churchill Downs, 360 miles southwest of Detroit, hosts the most renowned horse-racing competition in the country on just one day, the racetrack also runs horse races throughout the fall, winter and spring. Since 1911, the Indianapolis Motor Speedway, 285 southwest of Detroit, has been home to the most celebrated auto race: the Indianapolis 500.
Culinary Attractions
While New York pizza is famous for its thin crust, Chicago pizza is renowned for its deep-dish variation. No pizzeria is more famous for its Chicago-style deep dish than Uno's, where staff invented the variety more than 70 years ago. There are three restaurants in Chicago, all off N. Shore Drive, about 285 miles west of Detroit. In Kentucky, where bourbon has a rich tradition, Jim Beam Distillery offers behind-the-scenes tours and a state-of-the-art tasting room at its facility in Clermont, 380 miles southwest of Detroit.