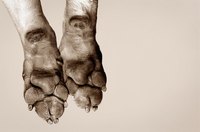 It's fairly obvious that big feet on a puppy will indicate a bigger dog in the making. But while paw size is a good indicator of whether you will have a small, medium or gigantic best friend, it isn't a particularly accurate measuring tool. There are better ways to know how big your dog will get.
A Ballpark Measure
Generally, bigger dogs have bigger feet, while smaller dogs have smaller feet. Except during certain growth spurts, when paws grow faster than the rest of the body, paws typically are relative to the size of a dog's body at all stages of life. Paws meant to carry a 100-pound guard dog, for example, would not grow on a toy breed. Likewise, paws meant to carry a teacup breed would not develop on even a medium-sized dog.
Not Always an Accurate Measure
While paw size can suggest a growing dog's eventual size, this is not always the case. Some breeds, such as collies, have small feet for what can be quite large dogs. On the other hand, the otherwise small-to-medium bulldog has large paws. As with people, overall foot size varies greatly among dogs of the same general size or weight. Five men who each weigh 200 pounds, for instance, could have five different shoe sizes. It works the same way with dogs.
Breed is a Better Indicator
A more accurate means of knowing your dog's eventual size is her breed. This is especially easy when dealing with purebreds, which usually conform to particular size ranges. Keep in mind, however, that the adult weight of some breeds, such as the English mastiff, can vary by 80 pounds or more, based on overall size. Knowing your dog's parents is by far the best indicator of what you can expect. Most dogs will grow to be one of their parents' general size.
Estimators Better than Paw Size
As a rule of thumb, a puppy will be approximately 75 percent of its adult height when he reaches about 6 months of age. Another good estimator is to measure your puppy between 14 to 16 weeks of age and double the overall size. At this age, paw size can be misleading, as many dogs will sport paws that have grown disproportionally large during a growth spurt.